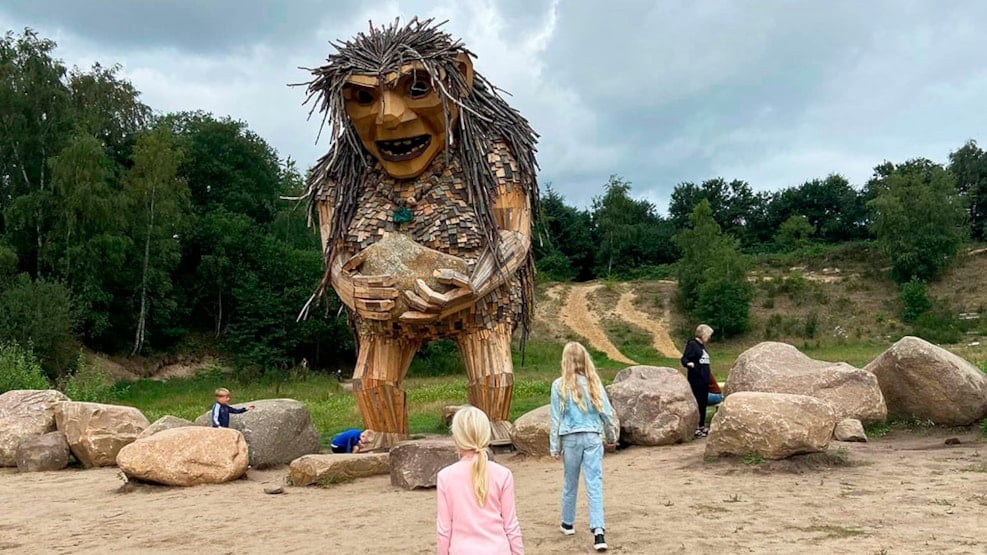 Elle the Troll
Go on a quest to find the troll and sculpture Elle when you visit Viborg. Elle is a giant troll hiding in the gravel pit behind Søndre Skole in Viborg. She is approximately 6 meters tall and guards over Elle Hill located behind her.
Wood Art and Troll by artist Thomas Dambo
The troll Elle has grown large in the heart of Viborg and is strong as a troll. She stands with a three-ton heavy stone in her hands, amidst 100 large stones, all as protectors against humans, to take care of nature and watch over Ellekone Hill and the entire area in the southern part of Viborg.
Elles Helle
Once there was a fairy mound, so young and beautiful and sweet
Once there was fairy dancing when the sun was red
Once there were flowers, beech trees, and the blacksmith dressed in gold
Once the earth was full of worms, and the mole dug the soil.
Then came a giant monster, and it took a bite of the hill
So the fairy girl screamed and ran away across the field
Many long years passed, and the lace turned brown
And the fairy girl returned home to the hill as a woman
And with her, in a sack, she carried a hundred stones on her back
And now she has placed them across the field as a defense that shields the hill
And behind them, Elle now resides in a hideaway from the monster
That tries to enter and devour the hill filled with flowers.
Translatet by VisitAarhus - read the entire poem in danish about Elles Helle on trollmap.com
See what others are sharing on Instagram