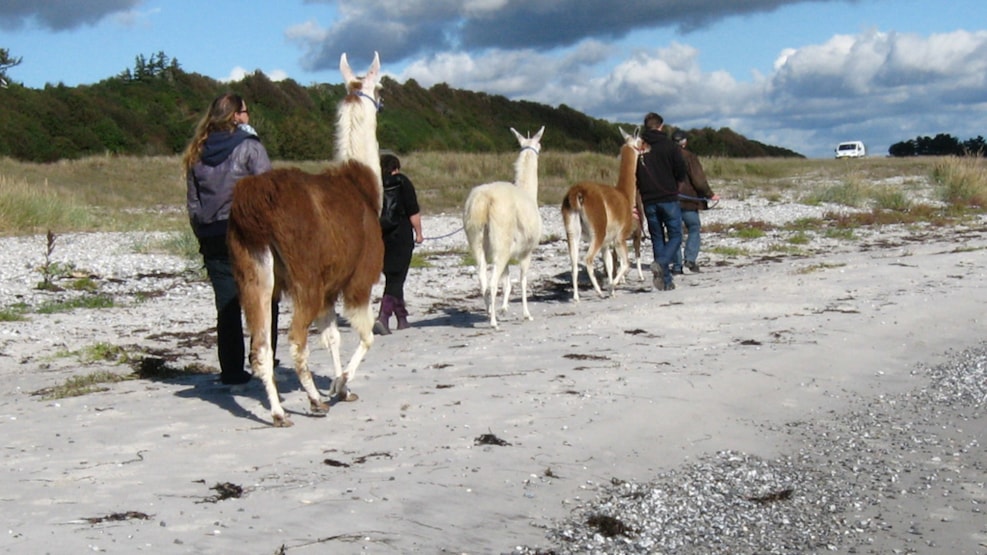 Ebeltoft llamas
A llama walk is a very special experience. You are very close to the animal, you lead and you can feel the relationship and also the effect you have on the animal's behavior.
Ebeltoft llamas
You will walk through the lovely summer home environment to the beach and along the beach.
Here you have a wonderful opportunity to develop a relationship with the animal you lead, absolutely relax and find yourself.
After, there is the opportunity to get a cup of coffee on the farm and hear more about llamas and take a look at the farm shop.
Llamas are tough animals - and every arranged walk will be completed, even in light rain.
Make an appointment for an undisturbed time to visit or to take a llama tour. Call or make a short visit before you plan to go on the walk. It may happen that we are with the llamas on tour or working with the llamas and therefore cannot immediately go with you.
You need sturdy shoes and weatherproof clothes if necessary. We reserve the right to cancel the tour if you do not wear appropriate shoes. The cost will be invoiced still.
Llama- driving – license
This offer is mainly for children (or children at heart).
You get to spend about 45 minutes together with the llama in the yard.  You learn interesting facts about the animals, you will find the first contact and learn to lead the Llama. Under your leadership, various obstacles are overcome.
In the end, you get the Lama driver's license and a small souvenir.
This offer is also suitable for younger children, such as a part of a child's birthday.
Again, sturdy shoes are required and parents are liable for their children. 
Visiting hours
Observe or get in contact with the amazing animals. Listen to the llama's typical noise, their buzzing, and their chewing when they eat hay. Paint a picture if you like or photograph your favorite animal! Ask questions, learn interesting and exciting things about the lovely animals - let yourself be inspired!
Again, it is a good idea to wear more sturdy shoes.
Hikes for school or childcare center groups - an extraordinary experience
The walk includes a time frame of 1.5 to 2 hours, including preparation and briefing. Two children each per one Llama. 1 or 2 caregivers can participate for free.
The walk encourages team spirit, mutual respect, and responsibility. At the same time, it is possible to observe nature and reinforce self-confidence.
All participants need sturdy shoes.
Llama training
Ebeltoft Llamas are happy to train your llama to make handling, care, or working with the animal easier.
Ebeltoft Lllamas will come into the house or you come to our farm and learn the know-how.
See what others are sharing on Instagram