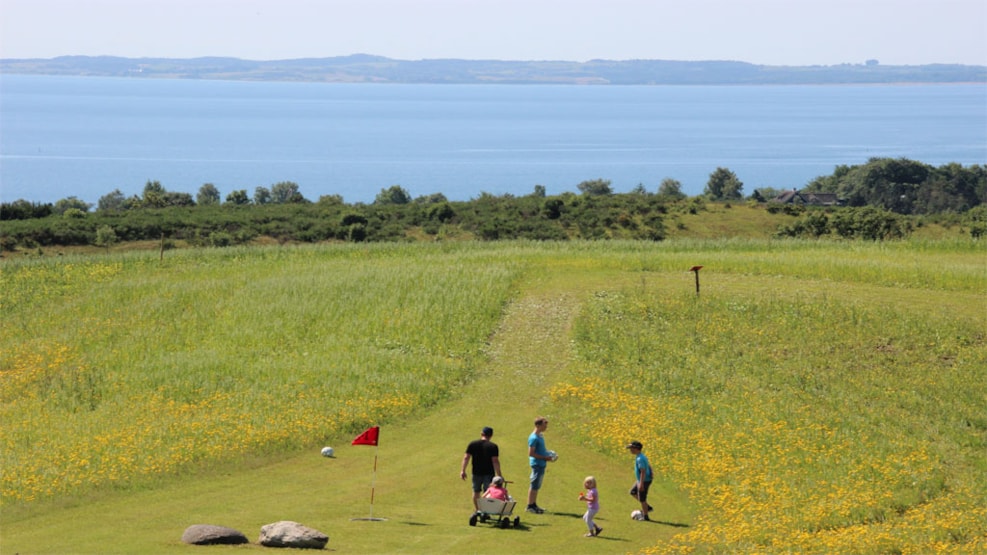 Ebeltoft Fodboldgolf (soccer golf)
Football golf is an exciting activity, which can be played by almost everyone. The sport originates from Sweden and is, as the name indicates, a combination of football and golf/minigolf.
The game is played with a football on a beautiful hilly course with different natural obstacles and 18 holes. The challenges of the game are to get through the course with as little kicks as possible, and, of course, enjoy the beautiful scenery while at it.
Ebeltoft Football golf is situated in the middle of Mols Bjerge, and with its 86-meter above sea-level, it has unique view options. There have also been set up a number of tables and benches, that way, it is possible to take a break and enjoy a packed lunch, while enjoying the views of the ocean, Tirstrup, and Stubbe lake. In clear weather, it may be possible to see as far as Samsø and Sjælland.
Football golf is an activity for the entire family.
Come and enjoy a couple of fun hours with friends and family.
Football gold can be enjoyed on occasions such as:
Holiday activity
Family get-togethers
Different activity for athletes
Ebeltoft Football golf must, with their 86-metre above sea-level, be the highest located football golf course in Denmark.
On top of it all, the course is organically driven, similarly to the rest of the grounds that belong to Tinghøjgaard.
See what others are sharing on Instagram