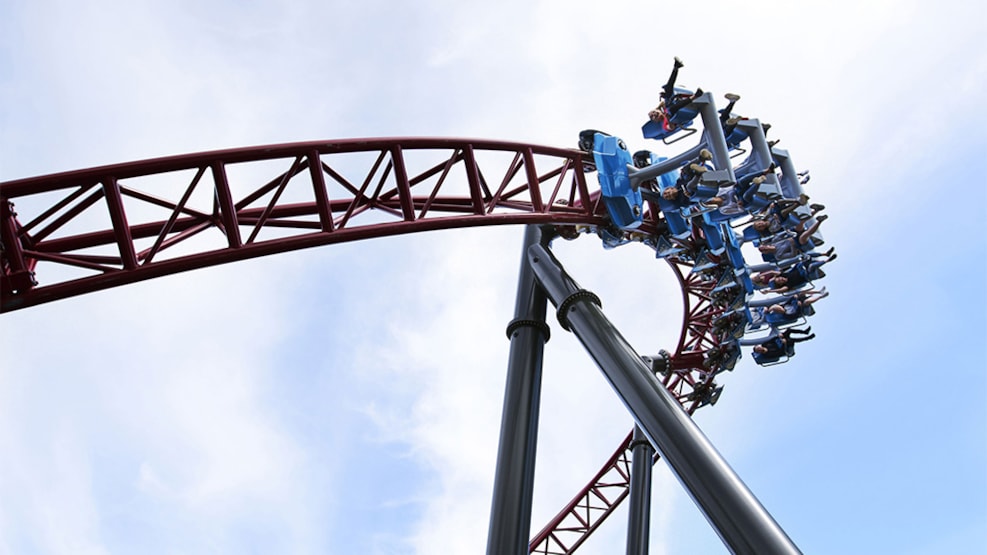 Djurs Sommerland - the largest amusement park in the Nordic region
In Djurs Summerland, it's just more fun for everyone. Look forward to experiencing 60 attractions, Denmark's best roller coasters, a huge water park - all spread across 9 adventurous theme areas with fun and play for the whole family.
Djurs Sommerland is closed for the winter, but will open again in April, 2024.
News 2024: Dizzyingly tall drop tower
In the popular Mexico Land, you can experience a brand-new attraction in 2024 - a drop tower reaching 60 meters, twice as high as both Piraten and DrageKongen, some of the largest roller coasters in Denmark.
Height: 60 meters, free fall: 100 km/h, heart rate: high, adrenaline: through the roof!
Dinosaur Land – a gigantic experience
Dinosaur Land is a fantastic themed area with 25 life-size dinosaurs and 6 fun rides for both small and big dino hunters.
Hop on the 400-meter-long family roller coaster, T-Rex Family Coaster, and zoom past giant carnivores and impressive longnecks. Or embark on a jeep safari with Dino Xpedition through the winding mines and dense forests of the dinosaur reserve, where ancient reptiles rule.
Look forward to exploring the Dinosaur Playground as well, where ancient dinosaur bones and brand-new experiences always hide just below the surface and around the next corner.
Denmark's most fun roller coasters for the whole family
If you're looking for speed, you've come to the right place. In Djurs Sommerland, you can experience 8 of Denmark's most fun roller coasters. Jump aboard Piraten, which, at 32 meters high and a top speed of 90 km/h, has been named one of the world's best roller coasters.
Feel the rush as DrageKongen – Europe's fastest and longest Family Suspended Coaster – dives from a height of 30 meters at 85 km/h. Or hop on Juvelen's ATVs and be shot off at up to 85 km/h in Denmark's longest roller coaster!
Also, try the family roller coasters, Thors Hammer, Den Vilde Hønsejagt, and Jungle Rally, where even the youngest daredevils can join in.
Waterpark for water lovers
Remember to bring your swimwear when visiting Djurs Sommerland and have an incredibly enjoyable time in the enormous Waterpark, where you can bask in the sun by the water's edge or rev up the excitement on the many water slides.
Food, relaxation, and green oases
There's room for both fun and relaxation in Djurs Sommerland. After exploring the many themed areas and trying out some of the rides, it might be time for a cozy moment in one of the park's countless green oases. Grab a bite to eat at one of the many cozy eateries, where you can choose from build-your-own burgers and buffets to delicious wraps and salads. Or choose to enjoy your packed meal in one of the park's many green areas.
World-class fun
Djurs Sommerland is literally world-class fun. So, gather your family and experience for yourself why the park was named "Europe's Best Family Park" in 2019 and "Amusement Park of the Year in Denmark" in 2019, 2020, 2021, 2022, and 2023.
Remember, once the entrance fee is paid, you have free access to all the park's attractions.
2024 season: April 27 – October 20.
See opening hours and other important information at www.djurssommerland.dk/en
See what others are sharing on Instagram