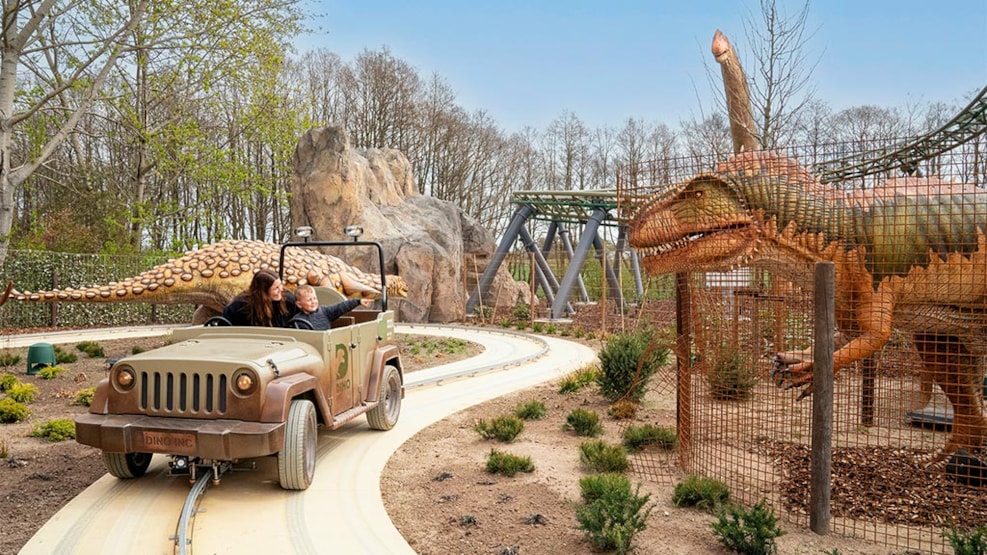 Djurs Sommerland
Djurs Sommerland is simply more fun for all. Experience 10 fantastic, themed areas, Denmark's best roller coasters, the giant Aqua Park, and more than 60 rides for kids of all ages. Djurs Sommerland opens again April 29th 2023.
Magical Halloween from 14th – 22nd October
When the days become darker, it's time for scares and fun for all the family. Come to Magical Halloween in Djurs Sommerland, where you will find 30,000 pumpkins, rattling skeletons, and real witches. You can also look forward to two Halloween Haunted Houses: HekseSkolen, an enchanting experience for all the family, and GræskarFabrikken, where scares lurk around every corner.
Come see a world-class amusement park and discover the most epic Dinosaurland – A themed area showcasing wild dinosaurs and fun attractions.
Dinosaurland – Epic news
Dinosaurland – This amazing new themed area contains 25 full-size dinosaurs, 2 extremely fun high-capacity attractions, and a playground filled with fossils for dino hunters of all ages. Jump on the 400 metres long family roller coaster, T-Rex Family Coaster, and enjoy a fast ride passing thrillingly close to giant carnivores and impressive long-necked sauropods. Or go on a jeep safari with Dino Xpedition through dense forests and twisted mines in the dinosaur sanctuary, ruled by the prehistoric giants.
Explore the Dinosaur Playground, a dig site hiding ancient dinosaur bones and new discoveries right below the surface and around each corner.
Experience the most fun roller coasters in Denmark with the whole family
Looking for speed and exhilaration? Djurs Sommerland offers world-class adrenaline rush experiences. Thrill-seekers mustn't miss out on Piraten. With a height of 32 metres and a top speed of 90 km/h, it has been named one of the best roller coasters in the world.
Feel the rush, when DrageKongen – Europe's fastest and longest Family Suspended Coaster – dives from a height of 30 metres at a hair-raising speed of 85 km/h. Or jump on one of the ATVs in Juvelen, Denmark's longest roller coaster, and experience being launched twice at up to 85 km/h.
Don't miss out on Thors Hammer, Den Vilde Hønsejagt, and Jungle Rally - family coasters for even the youngest daredevils.
Giant Aqua Park and more than 60 rides in Scandinavia's biggest summerland
There is room for both fun and relaxation in Djurs Sommerland. After exploring the ten exciting, themed areas and all the rides, take a break in one of the many green oases and enjoy an ice cream. Or you can opt to grab a bite to eat in one of the many restaurants, offering a large selection from burgers and buffets to salads and wraps.
Make sure you visit the huge Aqua Park and enjoy the sun relaxing with your feet in the pools or at full speed sliding down one of the many water rides.
World-class fun
Djurs Sommerland is world-class fun, so bring your family and discover why the park won the prizes "Best Family Park in Europe 2019" and "Danish Theme Park of the Year in 2019, 2020, and 2021".
Remember, all rides are free once you have paid for the admission.
2023 season: 29 April – 22 October
See opening hours and other important information at www.djurssommerland.dk/en
See what others are sharing on Instagram