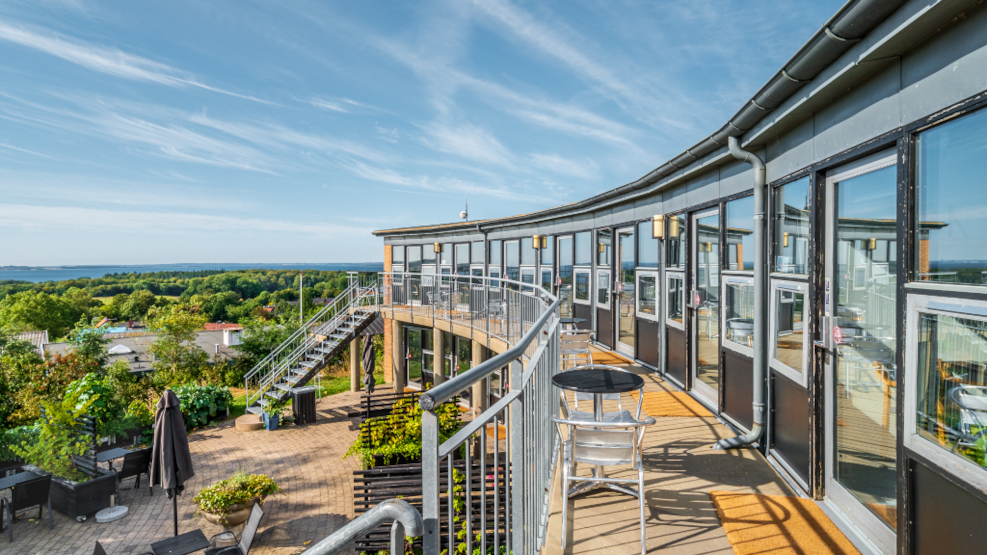 Green Experience
Danhostel Rønde
Danhostel Rønde is located in beautiful surroundings at the top of Rønde, right by the entrance of Mols Bjerge National Park. Here, you will find fresh air and stunning nature.
At Danhostel Rønde, there are 15 rooms with 2, 4, or 6 beds - all with private bathrooms and toilets, as well as access to a shared terrace. In all rooms, you will wake up to a fantastic view of fields, forests, water, as well as Kalø Bay and Kalø Castle Ruins.
Breakfast and Garden Lounge with a View
You have free access to the guest kitchen, the common room with games, and the garden lounge, where you can peacefully enjoy the view. Cooking meals from scratch is always a high priority in the kitchen. The hostel offers breakfast every day (except between Christmas and New Year).
There is free parking and charging stations in the parking area. The reception is open from Monday to Friday, from 08:00 to 16:00 - 24/7 check-in is available.
Surrounded by Nature
Danhostel Rønde is close to Kalø Castle Ruins, the beautiful forests and trails of Mols Bjerge National Park, the Nappedam Marina, and lovely cycling, running, and hiking routes. In Rønde, you will find shopping options, specialty stores, restaurants, and cafés - and there is also a bus station with direct connections to Aarhus, Ebeltoft, and Grenaa.
PGU Rosenholm
Danhostel Rønde is owned by PGU Rosenholm. PGU is an educational facility for young people with special needs. The daily operation of the hostel is managed by permanent staff and a group of young individuals who have chosen the hostel as their workshop line. The students actively participate in daily tasks related to cleaning, kitchen duties, and guest services - and you will primarily encounter them on weekdays.
See what others are sharing on Instagram