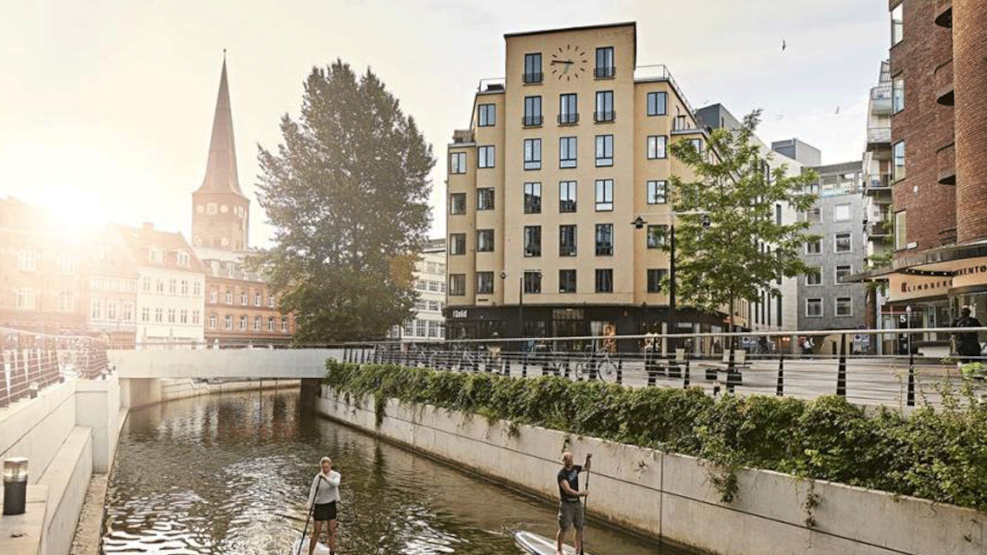 Danhostel Aarhus City
Danhostel Aarhus City, located in the heart of Aarhus, is close to many famous attractions. They include Vadestedet with a host of cafes and restaurants, the Latin Quarter, ARoS Art Museum, Aarhus Street Food, The Old Town Museum and DOKK1 at the waterfront, which houses a library and cultural centre.
Experience the vibrant life in the center of Aarhus
Danhostel Aarhus City offers one of the city's best views from the tall building and their cozy rooftop terrace. The place attracts many international guests and provides ample opportunities to meet new acquaintances from around the world. In the café, you can enjoy a delicious breakfast buffet or the dish of the day. Various beverages are also available for purchase.
A story of connection and conversation
The building in which Danhostel Aarhus City is located previously housed Aarhus' old telephone exchange and was filled with switching equipment and friendly telephone operators who manned the exchange. The connection to the world and the opportunity for a cozy conversation across the table are preserved in the exciting and modern hostel environment.
An environmentally friendly hostel
Danhostel Aarhus City has a strong focus on sustainable development, which is especially evident in the interior design. Recycling is used throughout the entire decor, from recycled furniture from a luxury hotel in Copenhagen to handmade bunk beds constructed from recycled materials. Fresh herbs and vegetables grow on the rooftop terrace, which can be used in cooking. Overall, they strive to maintain a green approach throughout the entire establishment.
Modern surroundings
The modern facilities offer large dormitories for social backpackers and private rooms for couples and families. Free WiFi is available throughout the premises, along with a spacious guest kitchen, urban garden, and rooftop café. All rooms have a fantastic view over the city rooftops. All beds are equipped with soft luxury box mattresses, individual reading lamps, and power outlets. The dormitories feature curtains for each bed and lockable cabinets.
See what others are sharing on Instagram