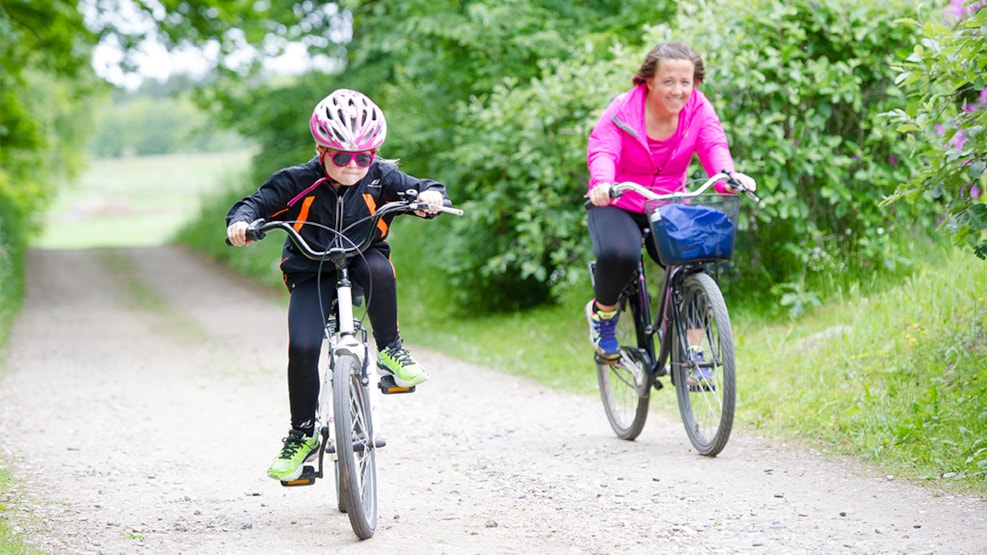 Cycling route: Children's route around Randers
The length of this tour is tailored to children and they will certainly find it a fun and enjoyable bike ride. The tour leads in an arc around Randers. Length of the route: 18.1 km.
Worth knowing about the route
Parking: Brotoften in Randers C, Randers Naturcenter, P-Huset
Road surface: Asphalt and gravel.
Estimated cycling time: Approx. 1,5 hours (at 12 km/hour)
Traffic conditions: A few major roads are crossed
Around Randers
Along the route, one passes through the residential neighborhoods of the town as well as through both beautiful nature and small and large sights where one can take a break. It is a good idea to bring lunch and enjoy it by the side of the road, on a bench or by the shelter site in Nordre Fælled, which is situated about halfway along the route.
Tøjhushaven
When riding along Udbyhøjvej, one passes the building Nørrejyllands Tøjhus with its characteristic yellow brick buildings. The building was built in 1801 and was used for weapons storage by the Danish army for 200 years. The garden here was established to beautify the surroundings of the building, and today it is one of the most popular green oases of the town.
NordreFælled
Formerly, this area was used as exercise terrain for the soldiers of the Randers barracks. Randers was a garrison town until 1997 and among others housed the 5th dragoon regiment. Queen Margrethe II's grandfather, Christian X, was trained as a military commander in the dragoon regiment in Randers in 1891-92.
Enghøj Church
The modern church, which has been designed by the well-known architect Henning Larsen, was consecrated in 1994. In the church interior, daylight is utilized in a most unusual way: the two long walls are namely furnished with little window holes, which throw slight beams of light into the room while the walls are illuminated from a slit in the roof.
Christian III's Channel
South of Hornbæk Church, one can see the remains of the extensive construction work, which in 1553 resulted in the building of a channel from the stream Nørreå near Fladbro to the western edge of the medieval town of Randers. The channel supplied the moats around the town with water and at the same time delivered water to the mill Dronningborg Slotsmølle.