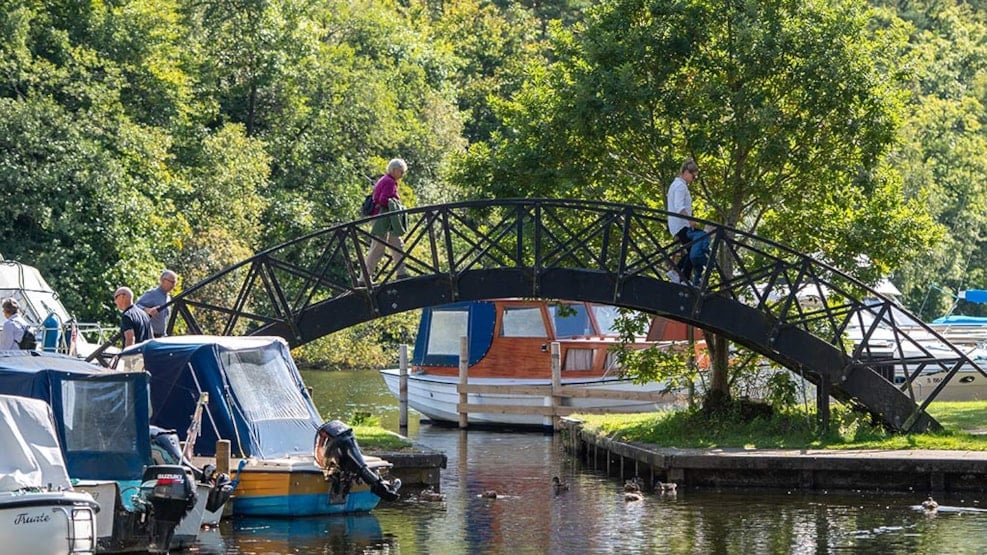 The City Park Indelukket
Indelukket is far from a closed area as the Danish name implies. It is a vibrant area with room for expression, freedom, life, relaxation and silence. A combined city-park and marina with stream, forest and park in direct connection with Silkeborg – a link between city and nature.
Indelukket is one of the Silkeborg citizens' most appreciated excursion spots
At Indelukket, there is activities and fun for the whole family, and it is the perfect place for an excursion. Combine activities and nature, and stoll along the stream, go mountainbiking or play minigolf.
Indelukket also contains a port for motorboats and is home to Silkeborg Motorboat Club that also has their clubhouse in Indelukket. Besides that, there is also a Camping site and at Indelukkets Spisested, you can enjoy a cup of coffee or a tasty Danish steak.
When you visit Indelukket, you are also welcome to:
Eat your packed lunch in the house by the playground
Use the petanque field by the playground
Bring your dog as long as you have it on a leash
Mountainbike (If you are considerate of your surroundings)
You can also use the showers at Indelukket, which is open hours of the day all year. You need a Danish 10 DKK coin to throw in the machine and then you have hot water for about 5 minutes.
Thereby, you have the possibility to, for example, take a ride on the mountain bike trails in the forest followed by a nice, refreshing shower in Indelukket, before you continue to your dinner in town.  
Events at Indelukket
Among other things, the area contains an open-air stage with room for around 2500 spectators that hosts concerts and festivals, for example the annually recurring event Hede Rytmer-rock festival.
Other events that also take place in Indelukket are:
1st of May event
Julsø Rundt Cycling Race
Last day of School
The history of Indelukket
The story of Indelukket begins on the 9th of June, 1899. Up until then, the forest had belonged to Skovridergården Marienlund, but now Silkeborg Municipality bought the 60 acres of closed land and the 72 acres of Marienlund's land to the neat sum of 42.000 DKK.
Beforehand, the forest area had been fenced off to keep people out – it was a closed area that audiences were excluded from – hence the name. But the times were changing and during a few years, Indelukket gained new life: In 1900, the Playground Union got permission to build activities for children and youngsters and in 1901, a new festival ground with tables and benches was constructed and inaugurated on Constitution Day. Moreover, a sanatorium was constructed in 1903 along with a city water supply in 1905, and around 1910-1911, allotments and a nursing home were built. Hiking trails were also constructed and a ferry service from Indelukket to the Northern forest also opened.
See what others are sharing on Instagram