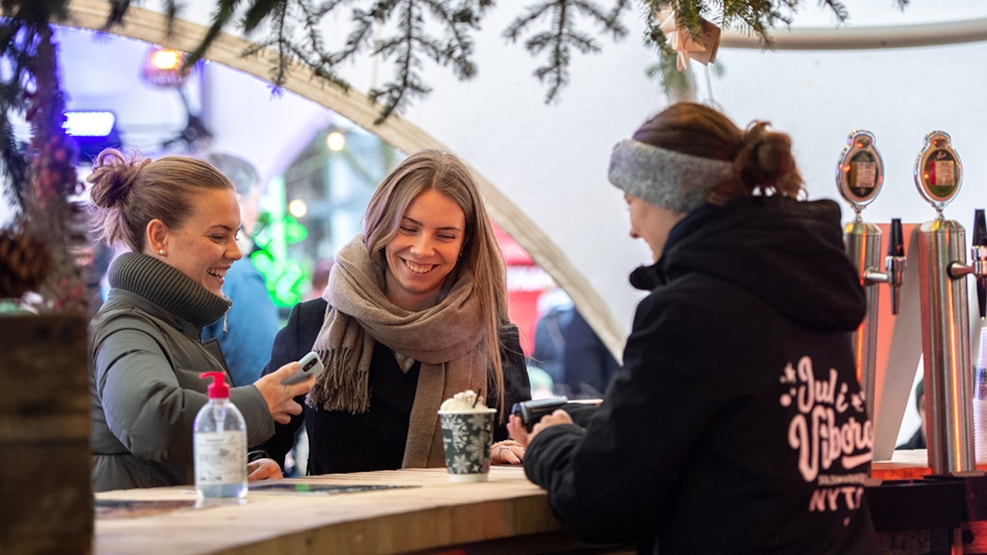 Christmas Market in Viborg
Viborg has been designated as Denmark's Christmas Town 2023. This year, you can experience the historic city dressed even more beautifully in Christmas attire. Visit the large covered Christmas market at Nytorv with its charming stalls, delicious Christmas treats, and delightful taste experiences. 
Enjoy the beautiful Christmas decorations, the numerous Christmas trees, and the Christmas lights - and, not least, the fun elves and many cozy Christmas activities!
Christmas Market for the Whole Family
Especially during the holiday season, we seek those wonderful Christmas traditions, and in Viborg, the Christmas spirit is in full swing with Æbleskiver (apple pancakes), roasted almonds, and an abundance of Christmas lights. On the cozy market, you can savor homemade Æbleskiver, freshly made doughnuts, roast pork burgers, roasted almonds, and delicious Christmas cookies. And if you're in need of a Christmas tree, some decorative greens, beautiful ornaments, crafts, or great gift ideas, you can certainly find them here.
The Christmas tree in the middle of the square with a built-in bar is a chapter of its own. It must be experienced! Here, you can enjoy Christmas punch, Glühwein, Irish Coffee, beer from Viborg Bryghus, and much more.
All of this can be experienced
Throughout the entire month of December, in Viborg, you can experience:
Hundreds of thousands of beautiful lights on the old buildings in the historic city center
A covered Christmas market at Nytorv in the historic city center
A gnome universe consisting of a gnome school, mischievous gnomes, and gnome passports
An angel garden in the Skovgaard Museum's garden
A cottage village at Sct. Mathias Center
An animated Christmas adventure and much, much more
One of the reasons Viborg was chosen as the Christmas Town of the Year 2023 is that the city - one of Denmark's most beautiful Christmas cities - places a special emphasis on involving the city's enthusiasts, associations, and businesses, who together create high-quality Christmas experiences. This includes the Viborg Musical Christmas Calendar and the city's entire gnome world with gnome school, gnome shops, and gnome passports, which provide experiences for many. They have created a Christmas culture and a universe in which everyone can participate and see themselves.
See what others are sharing on Instagram