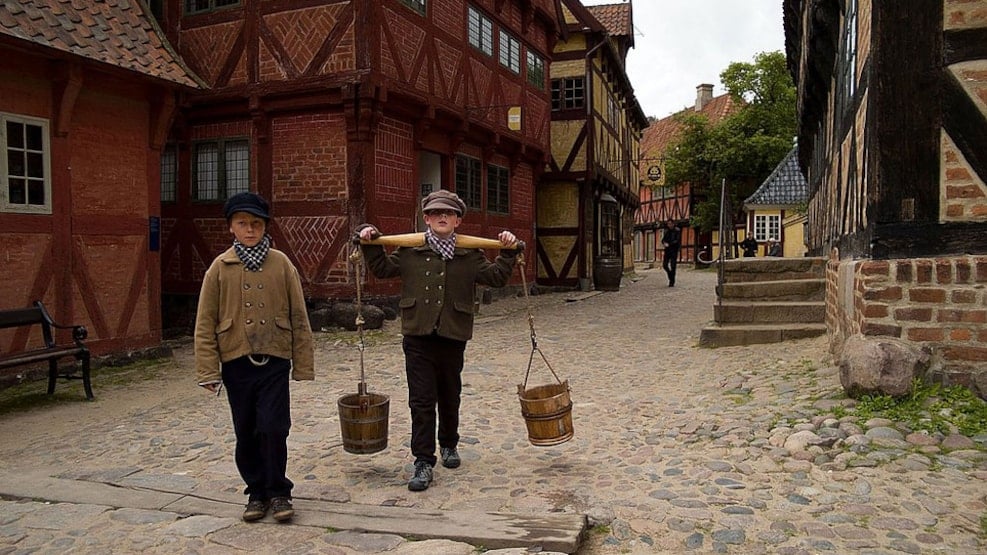 Children in Den Gamle By
During the school holidays children can have a go at working with seasonal subjects at Den Gamle By - The Old Town Museum. Boiling of sweets from a famous recipe is always on the program.
Historic childhood
What did Granny learn at school when she was a child, and what did she do in her spare time? What kind of toys did she play with, and what did the boys do? See what it was like to live and work in Denmark in the old days in the 'Den Gamle By' (The Old Town). Go on a fun and fascinating journey back in time and see how Danish children and young people once used to play and work.
Going to school as it was in the 19th century
You can go into a classroom and see what it's like when the strict teacher teaches you the way it was some 150 years ago in Danish schools. You can experience what it was like – sit by the desk, have your own slate to write on, and find out what it was like to have the teacher test you to see if you have done your reading and writing homework and your rote learning of hymns. When the teacher comes into the classroom, make sure to stand, and do not talk to the classmate next to you during class!
Play and bake buns together with Aunt Mary as in 1864
You can also pay a visit to Aunt Mary and help her baking buns in the old kitchen. When you have finished kneading the dough, Aunt Mary will show you around in The Old Town, do a bit of shopping at the merchant's house, and play games with you. While the buns are baking in the oven she will tell you some of the good old stories of the time.
Shoemaker for a day
You can also try helping a shoemaker as a shoemaker's apprentice in the 19thcentury. You will get dressed in the clothes of yore, you will do the cleaning, stack the firewood, grind the coffee, and pump the water...

... and many other journeys back to a time when there were no computers and smartphones, cars and busses....

For more information, please contact the 'Den Gamle By' (The Old Town Museum).
See what others are sharing on Instagram
#dengamleby #dengamlebyiaarhus #visitaarhusregion
FREE ADMISSION FOR EVERYONE UNDER THE AGE OF 18