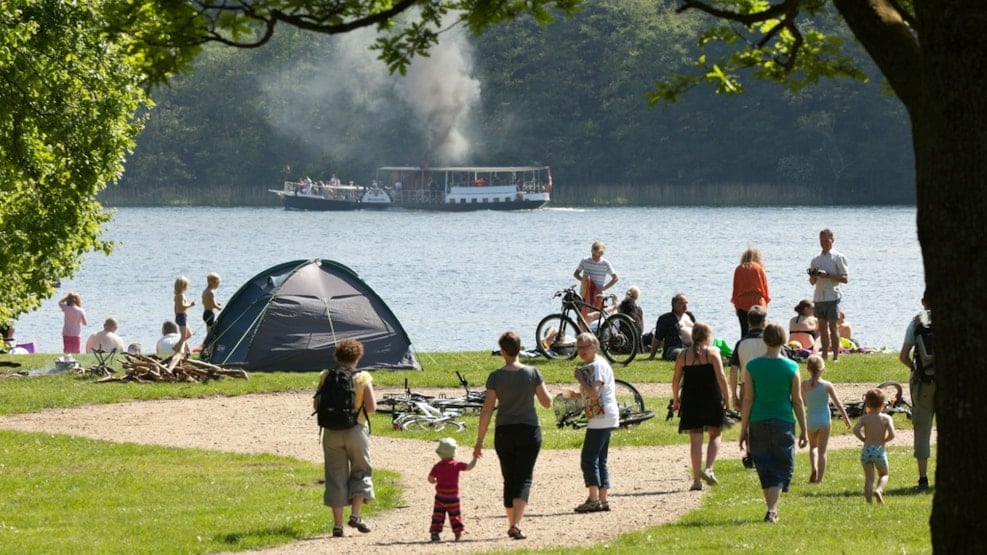 The Campsite at the green area De Små Fisk
The campsite at the green area De Små Fisk is located in a beautiful natural area directly down to Brassø (access from the water). The site is located south of the road from Silkeborg to Sejs, just before Sejs, about 3 km from Silkeborg. There is an opportunity to stay overnight in a primitive way at De Små Fisk - in a tent on the campsite or in shelters.
The two shelters closest to Brassø are reserved for canoe and kayak riders. The four shelters farthest from Brassø can also be used when you come via the Himmelbjerg Route. It is only possible to stay for one night, and it is not possible to book a campsite or shelter, but it is first come, first served.
The shelter closest to the toilet building is equipped with a personal lift, an extraction bed, and a traverse lift. Individuals or groups of people with disabilities have priority for this shelter. Other users are requested to take this into consideration and use the other shelters first.
Overnight stays in motorhomes and caravans are prohibited.
Access to toilets and drinking water is available from April 1st to October 15th.
The kiosk is open during the summer season when the weather is good. There is a fire pit, tables and benches, garbage cans, parking, information boards, enclosed mushroom picking area (see general bathing rules below), and a rescue post. Only use open fires in the designated fire pits. Dispose of your waste in the garbage cans. Take care of the area so that everyone can have a good experience.
See what others are sharing on Instagram