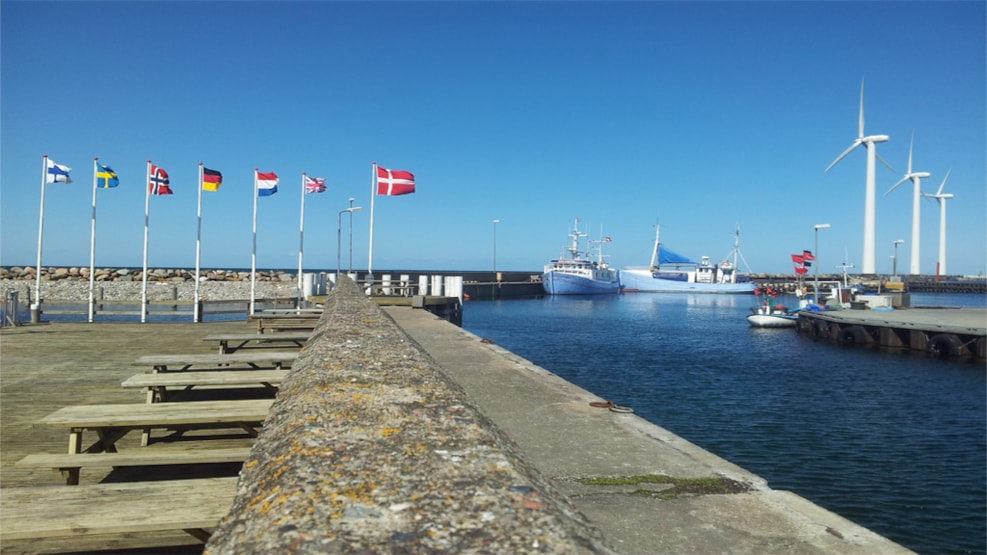 Bønnerup Marina
Bønnerup marina is located in a scenic area with lovely beaches and in direct connection with the cozy Bønnerup Fishing Harbor, where blue fishing boats come with fresh fish every morning.
Bønnerup Marina
The marina has the 2 inner basins on the west side of the harbor area.
The marina's port office is located in the southeast corner of the marina. In the entrance to the port office on the east side of the building, there are vending machines for the purchase of overnight tickets and port cards used for tugs, bathing and toilet facilities, and key cards.
Overlooking the west coast, there is accommodation for motorhomes, south of the tug.
The fishing port basins are reserved for commercial fishermen. The marina was newly opened in 1999 and has space for 250 permanent boats.
The common house's skipperstue with kitchen facilities and the large outdoor terrace with barbecue are fully available to the guest sailers. On the first floor is a living room with television, video and music system, etc. for free use.
Facilities
Around the areas are cozy spaces with tables, benches, and barbecue for common use.
There is a playground for the children behind the community house and the opportunity to go crab hunting in the 2 pools at bridge E and at the tug. There are electricity and freshwater supply on all bridges.
The sanitary facilities are state-of-the-art and include a bath, toilet, family bath, handicap toilet, washing machines, and dryer.
Within walking distance are fishing outlets, bakery, utility, ATM and various types of eateries, as well as several small shops worth visiting.
There are 3 heart starters set up in the port area: One sits on the north side of the service building at the fishing port. One sits on the south side of the yellow house at Bridge D in the Marina. One sits at the tug on the south side of the Bønnerup Strand Sailing Club's clubhouse.
Bønnerup harbor was previously an island port, which was connected to the village by a wooden bridge. The port was first connected to the mainland in 1968. Bønnerup Strand was founded by 4-5 families more than a hundred years ago. They settled here as fishermen and as the small community grew larger and larger. The old fishing houses from that time can still be seen along the beach.
Bottle of gas is available for purchase at the local grocery shop. There is coin-wash in the service building. There is wireless internet.
Local weather station - can be seen in the window of the harbor office or on the website under the "Weather" tab.
Tariffs are calculated according to the length of the boat. The tariff sheet is on the marina's website.
More information on the webpage of the Marina:  www.boennerup-lbh.dk.
See what others are sharing on Instagram