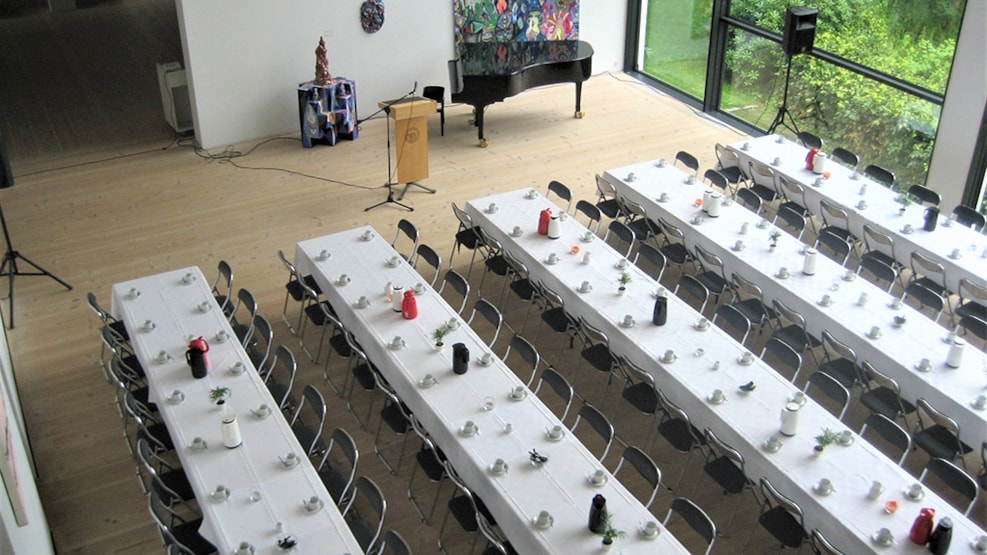 Art Centre Silkeborg Bad, venue
Art Centre Silkeborg Bad is beautifully situated by one of the Silkeborg Lakes and immediately by the large forests south of the city. They offer attractive opportunities when your company needs to run courses, conferences or meetings - whether it is business or outdoor, whether there are many or few participants.
Smaller meetings can advantageously be held in Art Centre Silkeborg Bad's meeting room, which can accommodate up to 12 people.
A villa on the lake or the Pillar Hall?
If you are 35-40 people, it is possible to rent the beautiful Søvilla, which forms a unique, scenic setting for your meeting and course activity.
For larger meetings, courses or conferences with up to 120 participants, the Panorama Hall in the Spa Building, with a view of Ørnsø, is a great opportunity.
It is also possible to use the classic Pillar Hall, where spa guests in their time came to get healthy baths. This hall can also accommodate 120 people, depending on current exhibitions.
Great lunch and break opportunities 
The Art Center's café, Café Ørnsø, offers to arrange lunch and coffee breaks during the day. Larger catering concepts are offered by arrangement. This can take place in the café or in Søvilla by appointment.
If you need a break during the day, it is possible to book one of the skilled communicators who tell indoors or outdoors about Silkeborg Bad's history, about the sculpture park or about one of the current art exhibitions. The large park that surrounds the center also offers rich opportunities for hiking and great experiences.
See what others are sharing on Instagram
#kunstcentretsilkeborgbad #visitsilkeborg #visitaarhusregion