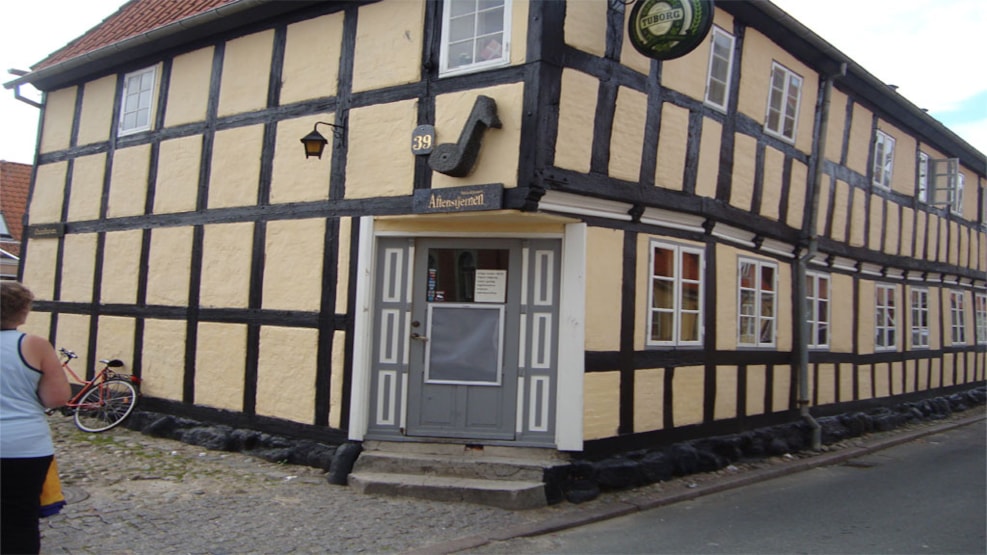 Aftenstjernen
Aftenstjernen.
Lillegade 39th Evening Star is an elegant half-timbered, and is one of Grenaa's finest buildings.
It is as if the building itself knows that it is distinguished by its 11 subjects timber.
It lies where it was built after a violent fire in Grenada in 1751. Back then, burned about a quarter of the city's buildings.

Evening Star was completed in 1856, when it was actually larger than today. Second was the main building facing Lillegade longer, and secondly there were some side wings, which are gone now.

It was a merchant and skipper, Rasmus Mau and his son Soren Rasmussen Mau, who built the great merchant house. Rasmus Mau died before it was built completely finished. There were stables and a barn, so there was injected extra boards to the living room to the ceiling could be used as a granary. Over time, the Evening Star has been owned by several major merchants, including a distiller is listed as owner.

Already by the end of the 1800s established a tavern in the front building. About 50 years earlier just first in the 1800s was the evening star - like Koldinghus - used as accommodation by Danish and Spanish soldiers during the war against England. But the Evening Star was not burned down.
Evening Star operates today as a pub where there is live music every weekend.