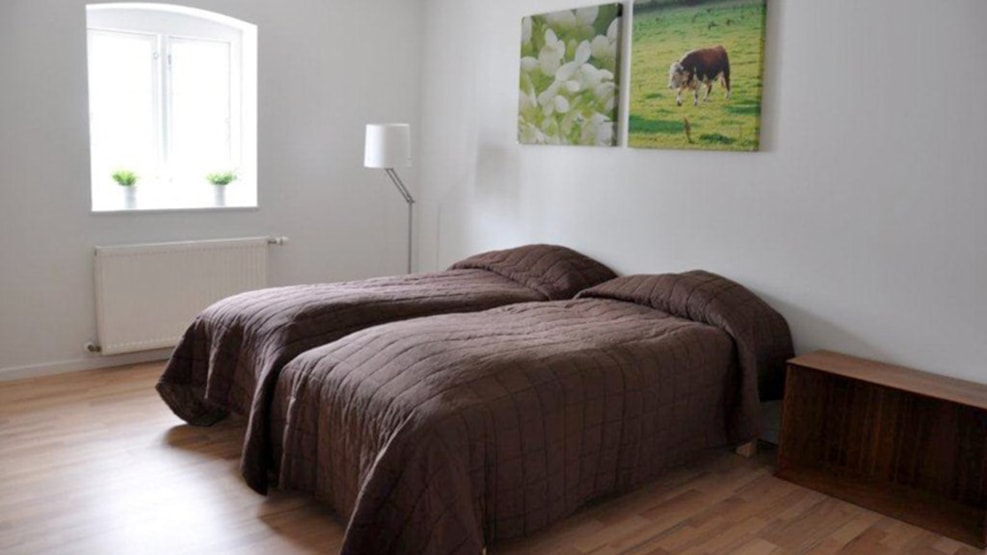 Accommodation at Sjørupgaard
Enjoy a stay at Sjørupgård and experience a manor-like accommodation in beautiful and scenic surroundings. SJØRUPGÅRD is a beautifully renovated 18th-century manor house located in the middle of Djursland and a perfect place for a vacation with extended family and larger groups.
The heart of Sjørupgård is the main house with excellent facilities for communal dining, including a large kitchen and a living room. In one of the farm's wings, there are six bright separate apartments, a large 300 m2 room that can be used for parties and similar activities, as well as two activity rooms that can also be used as classrooms.
Overview
Six apartments with a total of 20 double rooms
The apartments are on two levels Apartments
1 to 5 have a bathroom, kitchen, and living room on the ground floor, as well as three rooms on the first floor each
Apartment No. 6 has a bathroom, kitchen, and living room on the ground floor, as well as five double rooms on the first floor.
For vacation rentals, additional sleeping arrangements can be made for up to 13 people, totaling 53 people.
Main building
The main building has a large communal kitchen, dining room, and toilets. On the first floor, there is also a communal living room and meeting facilities/activity areas.
Training/activity room with AV equipment
The large barn is divided into a large banquet hall and an activity room with a pool table, table tennis, and a bar.
The beautiful garden and the surrounding nature of Sjørupgård offer great facilities for outdoor activities, including excellent barbecue facilities.
Distances
There are good shopping opportunities 6 km away in Kolind, including a Superbrugs grocery store, bakery, supermarket, and a local butcher
Lübkers Golf is 4 km away, offering wellness and bathing facilities
Djurs Sommerland is 5 km from Sjørupgård
It is 42 km to Aarhus ** 17 km to Grenå ** 19 km to Ebeltoft ** 42 km to Randers.
See what others are sharing on Instagram