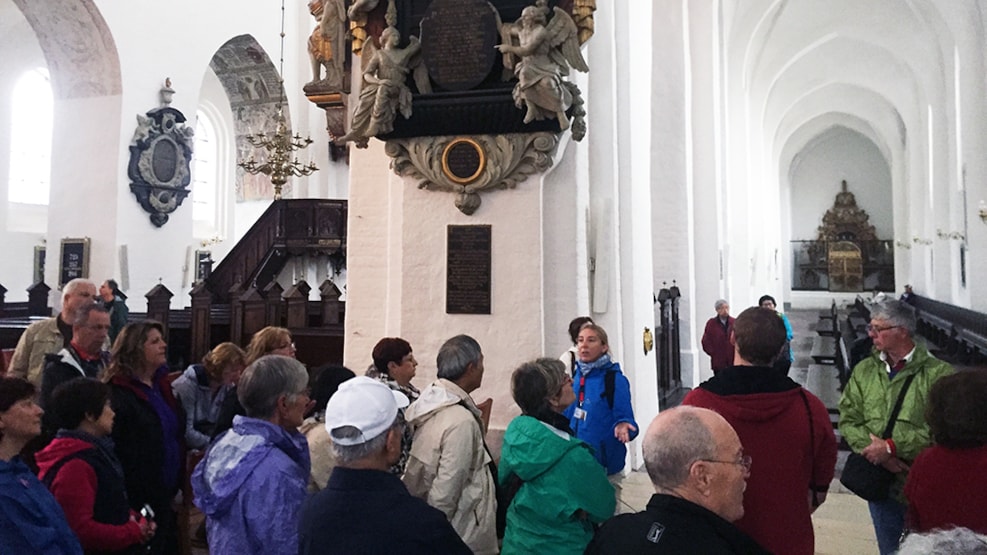 AarhusGuides
AarhusGuides have 50 experienced multilingual tour guides. All of our guides have passed the authorised guide training course and are certified by the Aarhus Guide Association. 
Tours in Aarhus, Jutland and Funen
Since 1945, AarhusGuides have worked professionally with the city's tourists and have continuously developed guided city tours and excursions in Aarhus, in Jutland and on Funen. They work with Denmark's other guide associations and are members of Inter Nordic Guide Club, the World Federation of Tourist Guide Associations and The European (EU) Federation of Tourist Guide Association. Our members' experience and our 1-year intensive guide course are your and your guests' guarantee of an excellent and professional product.
The guides are fluent in many languages and provide guide services, interpreting services, assistance with corporate visits, lectures, and transfers to and from the airport. AarhusGuides can guide in Danish, English, German, Spanish, French, Italian, Russian, Chinese, Swedish, Norwegian and Portuguese.
Guided tours and lectures
AarhusGuides have great experience in developing and organising professional guided tours to all attractions in Aarhus and in Jutland, both on foot, by bike and by coach. They all have expert knowledge of Aarhus' sights and museums, and we can entertain you with the best Aarhus stories and anecdotes.
Summer guided city tours and City Hall Tours
Every Summer, AarhusGuides offer regular city walks and City Hall tours – no registration needed. 
Join the AarhusGuides' tours through the narrow cobblestone streets of the city's charming old Latin Quarter, where our experienced guides make history come alive for you. 
AarhusGuides' special tours and themed tours
AarhusGuides' themed tours are very popular for private parties. No group or task is too big or too small for AarhusGuides. There are different tours in different languages, check aarhusguiderne.dk about tours' themes.
See what others are sharing on Instagram