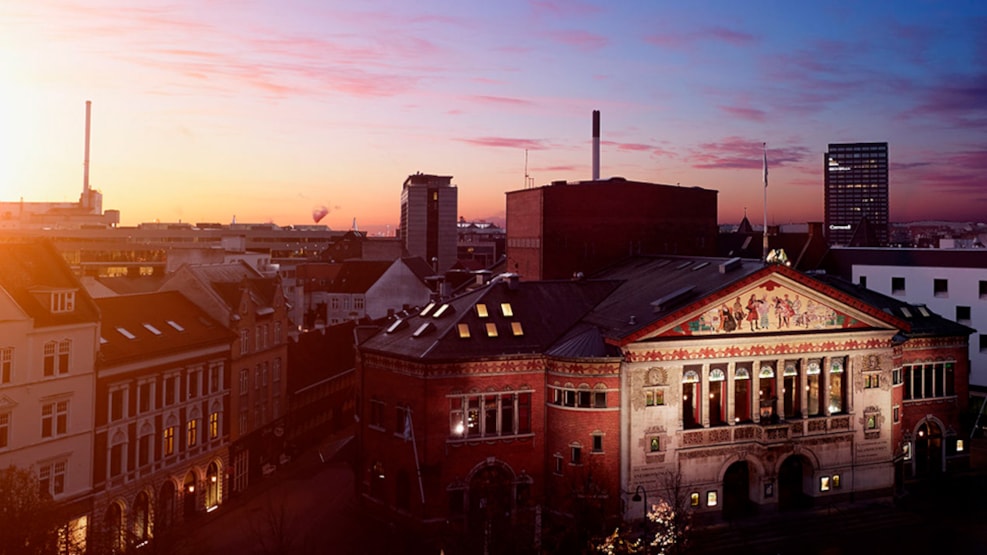 Aarhus Theatre
The Aarhus Theatre is a historic theater in the heart of Aarhus. With 4 stages and a total of 1,200 seats it is one of the most popular cultural attractions in Aarhus. 
Unique architecture
The listed building just opposite the Cathedral was designed by the architect Hack Kampmann, and was inaugurated in 1900. The Theatre has an all-embracing repertoire during the season from early September until mid-June, including some 15 of its own productions and also a few guest performances.
The lavishly adorned façade of the Aarhus Theatre has an enticing magic of its very own, and the spell and allure are even greater when you pass through the doors and enter the theatre with its glittering chandeliers and extravagantly gold-decorated ceilings and interiors.
See more
Rich history
The theatre dates back to the year 1900, and to this day the building still evokes an ambience of celebration and joyful expectation from the entertainment presented on its four stages.
The former theatre
The Aarhus Theatre (Aarhus Teater) in Aarhus is the largest provincial theatre in Denmark. The present theatre house constructed in the late 19th century as a replacement for the old theatre, nicknamed "Svedekassen". Since Aarhus had grown to be Jutland's biggest city during the 19th century, the old theatre had become too small for the public. 
New theater by architect Hack Kampmann
The new building was designed by the Danish architect Hack Kampmann (1856-1920), and the construction began on the 12 of August 1898. Only two years later the Theatre was completed, and it was inaugurated on the 15th of September 1900. The style of the building is Art Nouveau, with the national romantic emphasis on natural materials, and the interior was completed by artists Hansen-Reistrup and Hans Tegner.
See what others are sharing on Instagram