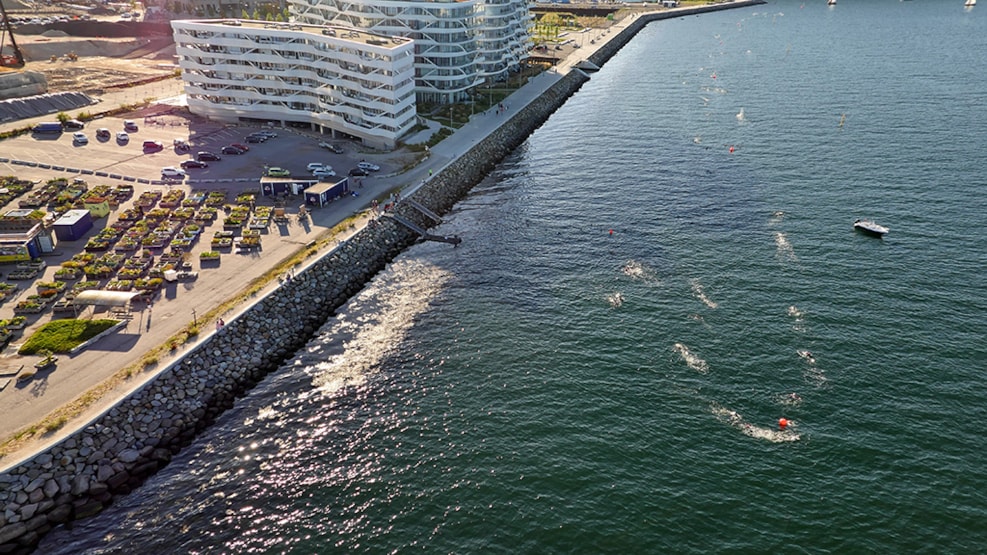 Aarhus sea swimming course
Once you are smitten by open sea swimming it is a habit which is hard to let go of. The swimming course is for sea swimmers. Since the water temperature can be much lower than what you are used to, you will need a wet suit, swim cap, and swimming goggles.
Some facts about the swimming course
The course is 500 meters long and marked with yellow and orange buoys. Since it is a buoyed swimming course it is a no-sailing zone.
Using the sea swimming course (Aarhus Havbane)
Wind and current conditions are completely different every time you hit the water. For open-sea swimming always swim at least two at a time and keep an eye out for each other. It is also recommended to wear a coloured swim cap so that people around can see you.
If you get into danger
Should you be unfortunate and get into danger, or see others who are in danger, use the swimming hand signals as sign-posted along the swimming course explaining the meaning of these hand signals. Under some of the signs there are life rings in case of emergency.
Open water swim course
Immediately next to the open water swim course you can go snorkelling for items placed in the water. It is an area full of vibrancy and activity. Feel free to bring your own snorkelling gear. For more information about this attraction feel free to contact Aarhus Havsvømning at www.aarhus-havsvoemning.dk