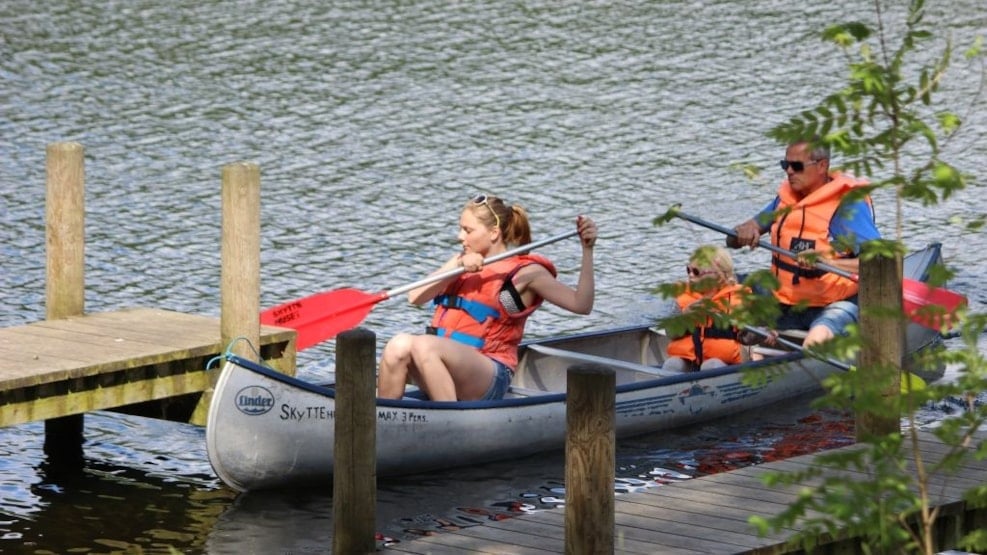 10 Tips for Your Canoeing or Kayaking Holiday
A holiday on the water is an exciting and different way of getting a break from everyday life. Regardless of whether you are going on a canoeing or kayaking holiday on your own or as part of a group, be sure to check out this list beforehand – then you will be all set to go.
Checklist
Appropriate clothes: There is no such thing as bad weather – only wrong clothing. The weather in Denmark can be quite unpredictable so be sure to wear waterproof or fast-drying clothes, as this will keep you dry and protect you from the sun and the wind, which can be particularly strong when you are on the water.
Life jacket: Wearing a life jacket in the canoe is mandatory, and you can rent one at the canoe rental service.
Dry bags: You never know whether or not your things aboard the canoe will get wet. You should therefore bring a dry bag for your important items such as your phone and your keys.
Water bottles: Bring plenty of water for your trip. Being physically active in the sun can easily make you thirsty, and the water bottles do not take up much room in the canoe, so they are easy to bring along.
Snacks: You are going to need plenty of energy for a long day of canoeing/kayaking, so bring some delicious snacks and have well-deserved snack breaks along the way.
Whistle: Bringing a whistle is a good idea in case of an emergency. This way, you are able to catch people's attention if you should get stuck somewhere or get separated from your group.
First-aid kit: Bringing a first-aid kit is always a good idea as you are then on the safe side in case of an accident.
Map: Bringing a map will help you navigate, and be sure to keep it in a waterproof sealing.
Sunscreen and sunglasses: The sun can be extra strong in the middle of the day, so wearing sunscreen will prevent you from getting a sunburn. And do not forget your sunglasses, as they will make it easier for you to see properly when the sun is out.
Other items that can come in handy:
Camping supplies
Lightweight towel
Sandals
Hat
Pocket knife
Binoculars
Deck of card
Camera
SPF-lip balm
Gaffer tape
Items you should not bring when sailing in a canoe/kayak
Jeans and nice clothes – denim is heavy, it takes a long time to dry, and it is not easy to move around in. Leave your nice clothes at home and put on a practical outfit.
Electronic devices – every piece of unnecessary electronic equipment should be left at home where it will not break.
Valuables – are very easily lost in case the canoe or kayak accidentally turns over.
Where can I spend the night?
There are many ways to sleep outdoors when you are spending your holiday in a canoe/kayak. If you are renting one through a rental service, you can always ask for a list of accommodation options on your route. Bringing your own tent is often the easiest solution, but there are several shelter sites along the way, as well.
Here, you can get an overview of primitive campsites and shelters.
What time of year is the best for going out in a canoe/kayak?
Generally speaking, you can go out in a canoe/kayak all year long, however, weather conditions and sailing regulations can provide limitations. Weather-wise, summertime is undoubtedly the best time to go paddling on the streams and lakes. Would you like to practically have it all to yourself, springtime and autumn are perfect times of year. However, be aware that water temperatures are lower at these times of year, and you need to take extra precautions to ensure that you have a good and safe time.
Sailing regulations vary between the streams and lakes. Find out more about the regulations on Gudenåen in general.
See what others are sharing on Instagram