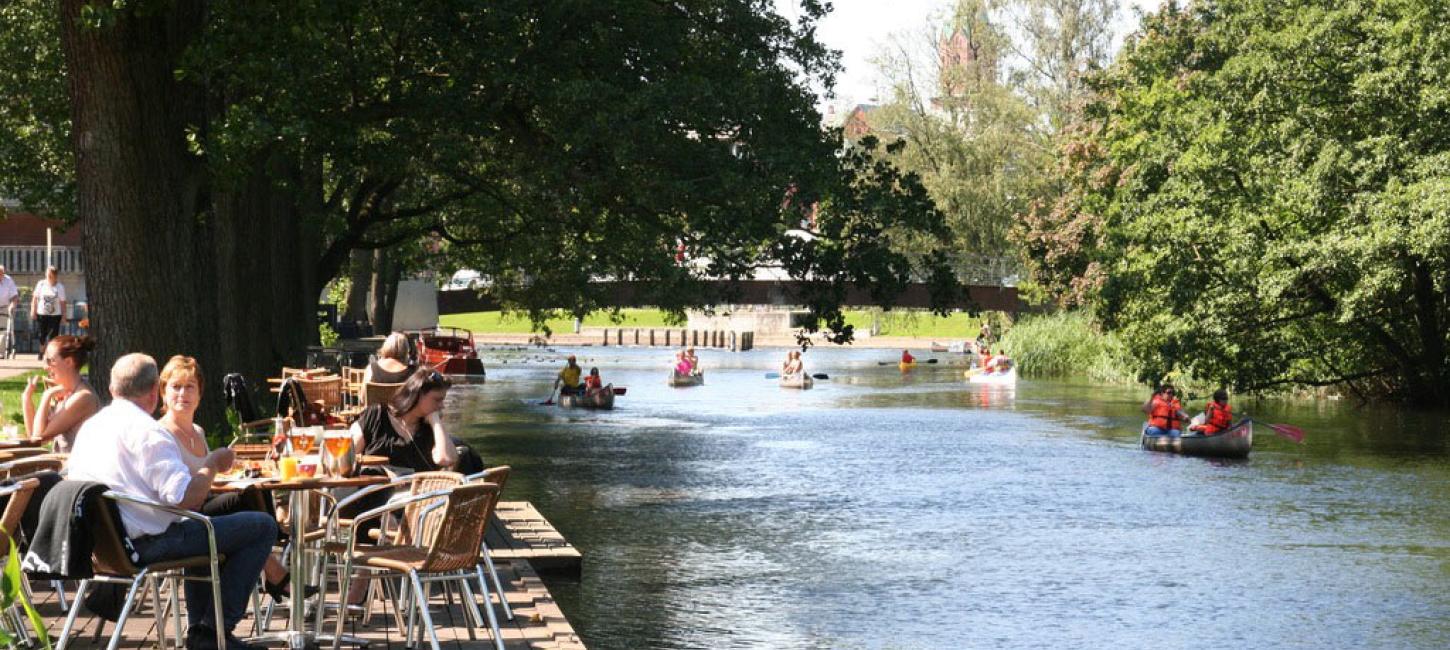 Welcome to Silkeborg
Silkeborg is superbly situated in the heart of the Lake District Søhøjlandet on the very banks of Gudenåen, and it is one of the most beautiful towns in Denmark, surrounded by luxuriant forests, soaring hills, and impressive lakes.
The town has achieved the international status of Denmark's Outdoor Capital®, and as the title suggests, the area is simply bursting with amazing adventures for all nature lovers.
In Silkeborg, the forest and the water reaches as far as into the heart of town. Have a lovely day of shopping in the town centre's nice shops and one of Denmark's greenest pedestrian streets, where culture and nature merge in several spots along the way.
Feel the wonderful atmosphere when you hike or ride your bike past Silkeborg's attractions and cultural gems along Silkeruten. From here, you get to take in the stunning views, rolling terrain, and diverse scenery in and around Silkeborg's town centre.
In Silkeborg, you truly get close to nature when walking among the sculptures in the sculpture park by Art Centre Silkeborg Bad, or when you visit Museum Jorn, that holds the second largest art collection in the country. And do not miss AQUA Aquarium & Wildlife Zoo, where you get to see wild, Danish nature and lots of Danish animal species – and even up-close.
Plenty of Great Holiday Experiences
The icons to end all icons during your stay in the Lake District, is a trip down the Gudenå River aboard the world's oldest paddle steamer, 'Hjejlen', that will glide you through breathtaking hills and forests, and along the way, you can jump off and enjoy the view from Himmelbjerget.
Great Experiences in Stunning Scenery
In the region surrounding Silkeborg, the Lake District holds a plethora of outdoor experiences. For instance, rush down some of Denmark's most challenging mountain bike trails that are found in the woodland around Silkeborg. Or, walk in the footsteps of the barge pullers on the Barge Puller Path or jump in a canoe and enjoy sailing down Denmark's only river, Gudenåen. And do you feel like going for a swim in one of Denmark's cleanest lakes, drop by Almind Sø lake, Slåen Sø lake or one of the numerous other beautifully situated lakes in the area.
What's going on?
Find the best events in Silkeborg