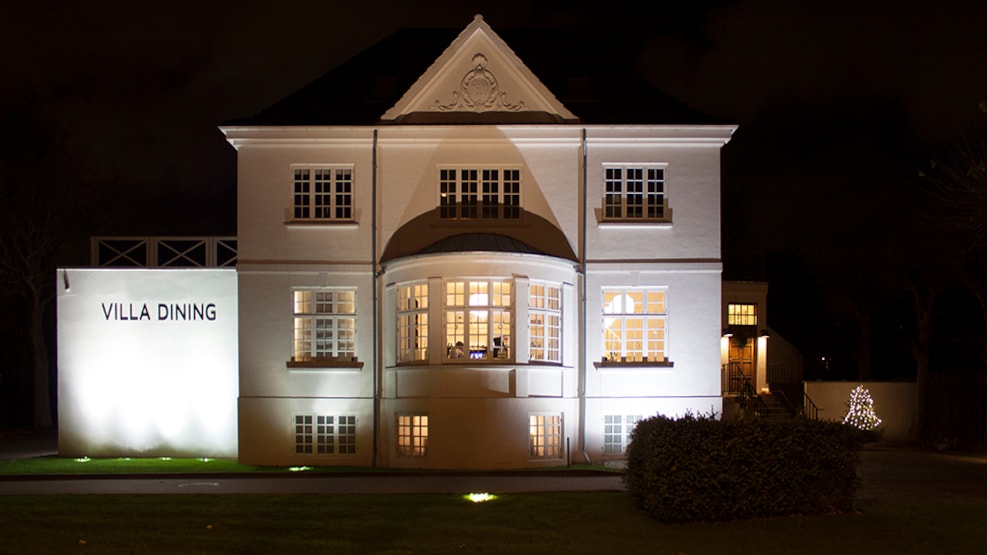 Villa Dining
At Villa Dining you will experience a unique and wonderful restaurant concept. The cosy villa in Risskov treats you to a unique evening with delicious Nordic gastronomy, lovely wines and great service.
Nordic gastronomy and design fusion 
A visit at Villa Dining is in many ways similar to enjoying a wonderful meal at your friends' house. After a warm greeting at the door you will be led through the rooms of the beautiful mansion and shown to your table, where you can relax into soft and comfortable designer furniture.
Choose Gold or Silver menu 
At Villa Dining they have invented a wonderful evening concept. You can choose between two different menus, the Gold menu and the Silver menu.
The Gold menu gives you the full Villa Dining experience with snacks, appetizer and three delicious courses. All this is accompanied by a perfectly matched wine menu chosen especially for the beautiful meal of the evening. With the Gold menu the wine bar is also free. The evening is rounded off with coffee, avec and a little something for that sweet tooth.
The Silver menu is served Monday to Thursday and comes with snacks, starter, main course and dessert. Drinks can be purchased to accompany the menu. Both the Silver menu and the Gold menu presents you with the season's best flavors and here you really get value for your money.