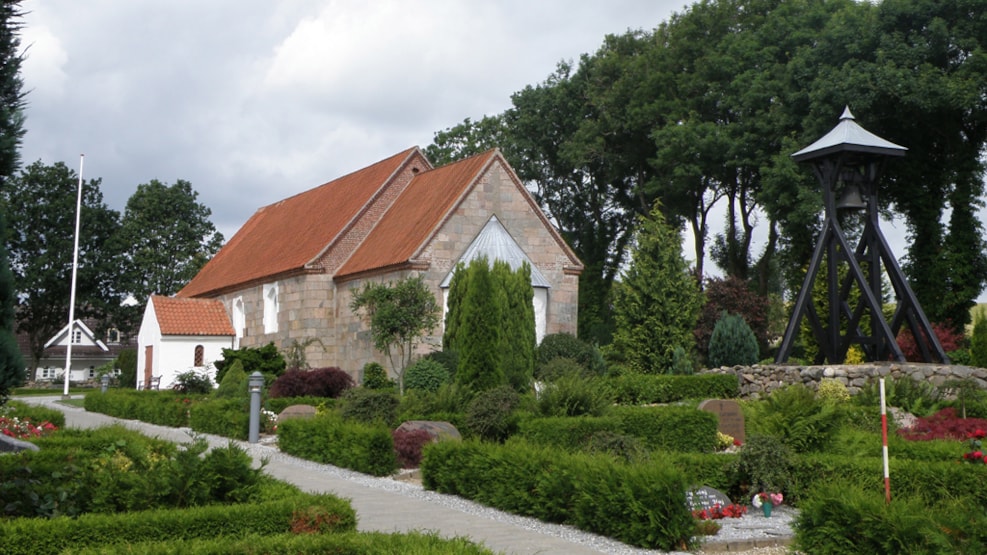 Tulstrup Church
In the Middle Ages the church in Tulstrup took up a central position by the Kings Road between Skanderborg and Viborg and close to an important waterway; the Gudenå.
It is estimated that the church was built as an outpost for Christian missioners around the year 1125. It is situated a day's journey from the episcopal residence in Aarhus.

The apse (from travertine) is the oldest part of the church and is of the same age as the apses of the church in Veng. The age is also estimated on the basis of its roman frescoes (now white-washed).

The church in Tulstrup is consecrated to the Archangel St. Michael, who was the protector of the monks working as missionaries.

The font is carved in granite with reliefs showing two angels between two pairs of lions.

Altarpiece with picture and wodden frame from around 1590. The picture shows Christ at Golgotha and is inspired by a wodden carving by Albrecht Dürer.

The pulpit dates back to the late Gothic era.

The church is usually open to visitors during the daytime, when the grave-digger is there.