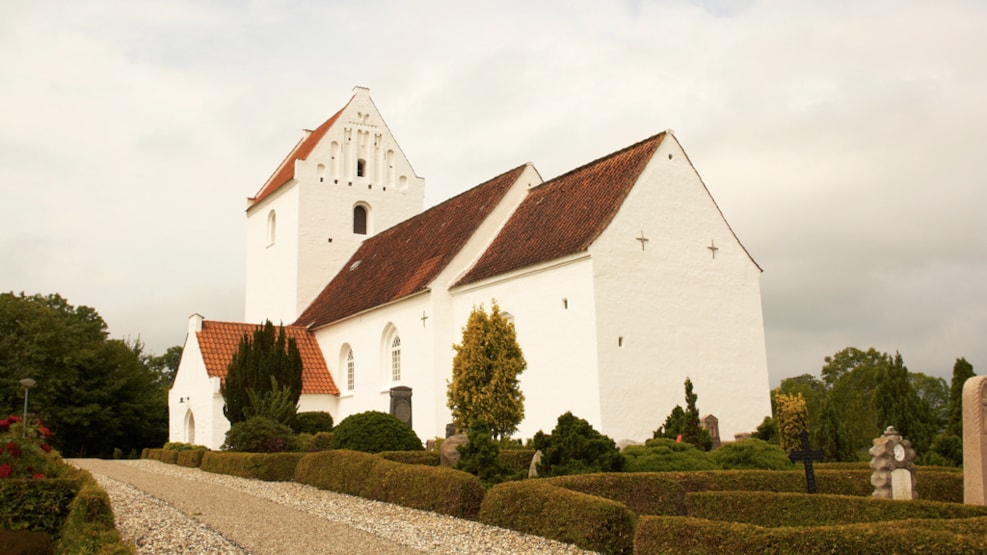 Tåning Church
In contrast to the other two churches in the parish, Hylke Church and Ovsted Church, Tåning Church is situated right in the middle of the village of Tåning, as was customary, built on the highest point.
From the churchyard, there is a beautiful view to the east overlooking the Tåning meadows and further towards Skanderborg, and to the north over Mossø towards Boes and Svejstrup. In ancient times, one could probably also see the church from Øm Monastery, to which Tåning Church belonged.
The church, i.e., the choir and nave, was built of fieldstones in the first half of the 1200s. The tower and porch date back to the 1500s.
Originally, the church had a flat wooden ceiling, but in the 1500s, the vaults that one sees today were added.
Inside, the church appears very harmonious, with a proper balance between the nave and choir and with a broad chancel arch that elegantly unifies the church as a whole.
Contributing to the harmonious expression is also the acquisition of a new organ in 1997 and subsequently a total restoration of the church's interior, providing a rare opportunity to create a color coherence that extends from the altar rail in the choir through the pews in the nave to the organ, which is located in the tower room.