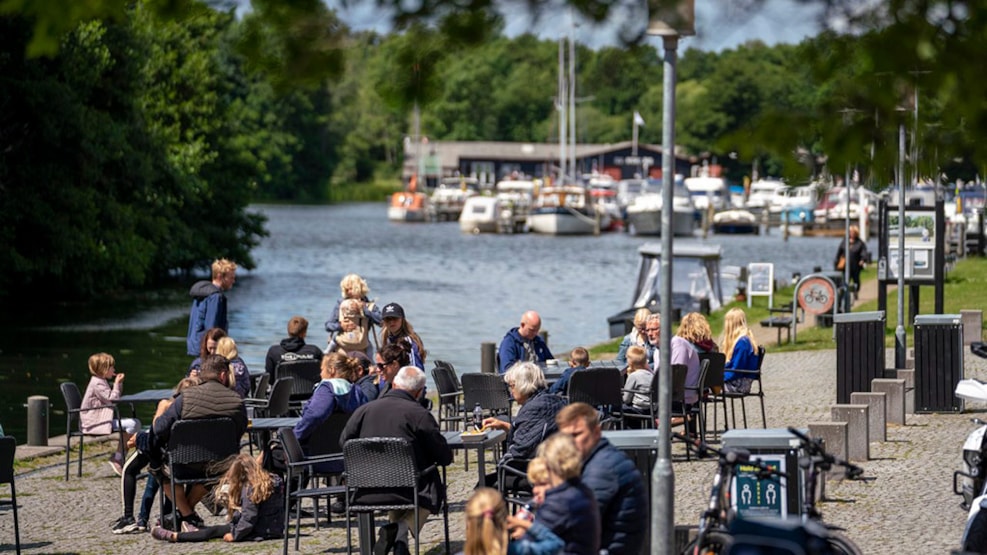 The Station Town of Ry
The small town Ry is a cozy town and a gem located at the foot of Himmelbjerget in the beautiful Lake District Søhøjlandet. Ry is characterized by great engagement, activity, and numerous events throughout the year. 
From the lively harbor in Ry, there is a beautiful view of Himmelbjerget, the lakes, and the forests. Tourist boats from the Hjejle Company come and go, loaded with summer guests. Canoes set off on long journeys with happy families, and the Lakeside restaurant serves tapas on the harbor quay, while the kiosk's homemade Italian ice cream is a heavenly treat for both young and old sweet tooths.
Here, specialty shops entice with everything from crafts and Danish Design to delicious strawberry cakes and fashion, and on Saturdays at Ry Market, you can find fresh local produce from the surrounding area.
Events
Throughout the summer, every Wednesday and Sunday, you can enjoy free promenade concerts in the pavilion at the harbor, where hundreds of locals and tourists gather for a cozy evening with music from all over the world.
On Siimtoften, right above the harbor, vintage car enthusiasts gather every Thursday evening from June to October. Hundreds of sparkling, polished vehicles are parked on the grass, and if you're a bit curious, you can always have a good chat with the proud car owners.
Swimming Lakes and Beaches
Two lovely beaches - Knudhule and Sdr. Ege - with good play and picnic facilities are part of the town's life, and here, children can splash around while adults enjoy life.
For dinner, for example, you can visit Knudhule Badehotel with a view of the beautiful, deep Knudsø.
The lakes around Ry are also fantastic waters for kayaks and paddleboards.
"Stop by"
On your way between towns, you'll encounter signs saying "Freshly Harvested Honey," "Strawberries and Peas," or "Ceramics - Stop by." Perhaps the goods are for sale in a small roadside stand, maybe the sign points to a farm shop with food that tastes delightful from the Lake Highlands, or perhaps it's an invitation to step inside the artist's workshop.
Shopping
In the Lake Highlands, shopping is pure pleasure, whether you just need a rye bread for packed lunches or are hunting for a great bargain. You can leisurely browse through small specialty shops or fill your shopping cart in large, modern supermarkets.
There are no parking problems in Ry; there is plenty of space everywhere.
See what others are sharing on Instagram