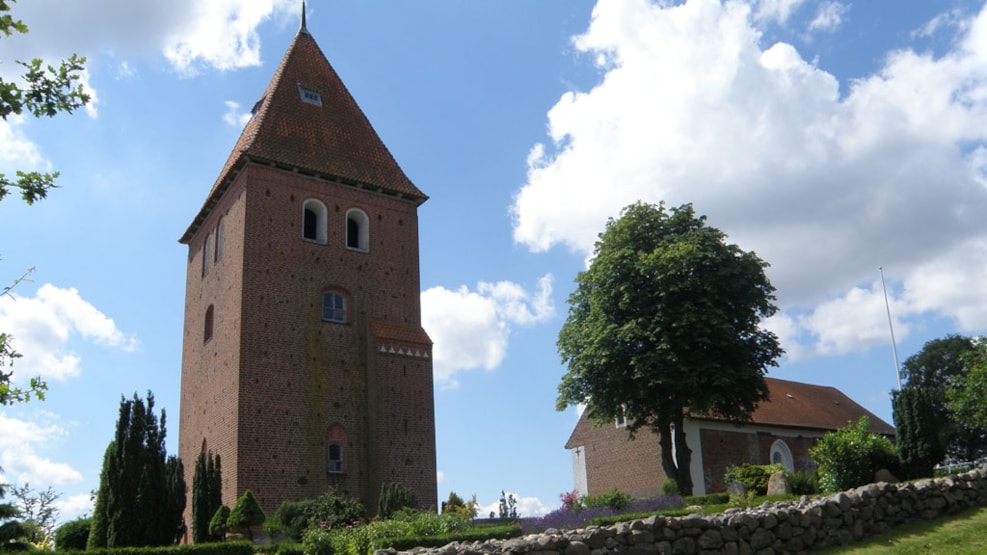 Sct Sørens Church
Sct. Sørens church has been held in high esteem due to a holy spring which was already known as a place of pilgrimage in 1405 when it was discovered that the spring was sanctified by Sct. Søren.
The tradition says that Sct. Søren was a peasant boy, who evaded his destined occupation and became a monk, later a priest and died a bishop in Cologne around the year 400.
Initially a roman granite church could be found on the site. This church, however, soon became too small; but because of the religious healings at the spring, the pilgrims donated substantial funds to the church. During the 15 century the modest church was extended with naves.
The church reached cathedral size with a length of 52 metres and a width over the naves of 33 metres. 
The pilgrimages to the spring ended with the reformation in 1536 and little by little the church became dilapidated. The tower, naves and the three eastward arch windows decayed from the middle of and until the end of the 17 century. You can, however, still perceive its magnitude when you are standing in the modest village.
The present tower, which is separated from the nave, was constructed in 1912. The turret originates from Frederiksborg chapel.
From the Catholic furniture only the censers and a late Gothic crucifix have been preserved.
Baroque altar piece with the crucifixion in the centre part. 
For further information about the church services go to the church's own website: http://www.glryekirke.dk/joomla/
Listen to 1001 stories about Sct. Søren's Church here:
http://www.kulturarv.dk/1001fortaellinger/da_DK/sct-soerens-kilde