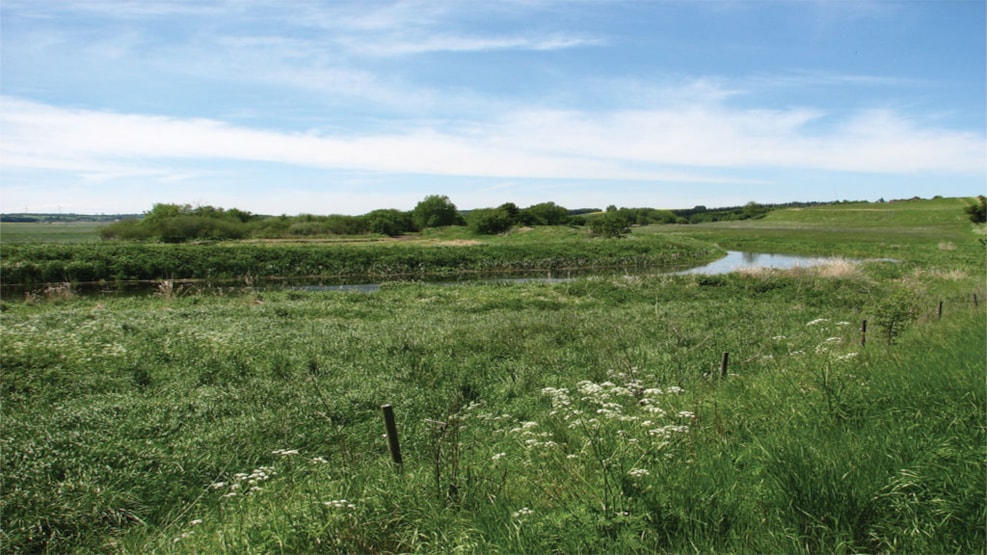 Red route 7,5 km - Kloeverstierne Kolind
"Kolindsund" is an exciting area and important for agriculture, nature, and wildlife.
The Kolindsund hike of 7.5 km
On this 7.5 km trip, you get to experience everything, and you learn the story of Kolindsund, Vedø Hovedgård, get the view of Sivested Odde, Benzonshøj, and you get to go on top of a dike, between two bridges!
Kolindbro
The elongated strip of houses that can be seen on the left is the settlement Kolindbro. In the past, there was the opportunity to be ferried across Kolindsund. Later on the ford and then a bridge. Kolindbro has had a grocery store and a small harbour with a bridge. Here small vessels transhipped goods to and from Grenå.
As can be seen, the settlement is very low, on a low shore, which protrudes from the steep slopes on the north side of the channel. Not much, about a meter, the area is raised above the surrounding sound. Usually, it is sufficient enough to not be flooded as the water rises and converts the meadows to the east and west into large lakes.
See an overview of the routes here.
See maps with audience facilities here.
See what others are sharing on Instagram