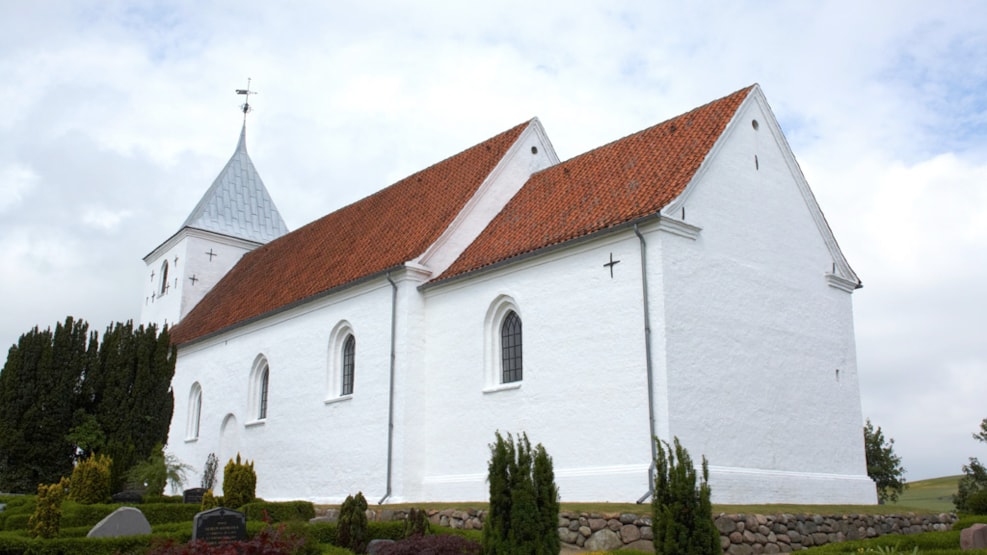 Ovsted Church
Ousted church is among the highest situated churches in Jutland and can be seen from a great distance. It is placed in the immediate vicinity of Ejer Baunehøj.
Roman choir and nave with westward late Gothic tower. Porch from the end of the 18th century. The roman part is constructed by chalk stone and granite boulder.
The church has a very beautiful tripartite choir and in the north east a door has been reopened to a narrow winding staircase leading above the arch to a narrow, secrete passage in the wall. Via the narrow passage and the tower you can access the westward part of the church.

A further rarity, an opening in the wall with two outlets - a so-called piscine -, can be seen in the choir. The piscine was used as an emptying basin for rinsing water from holy bowls.
Altar piece in renaissance (about 1600) with a painting of Jesus and St. John the Baptist at the Holy Communion from the middle of the 19th century.
Three carved episcopal saints (Erasmus, Dionysus and an unknown), suspended in the nave, are thought to originate from a late Gothic altar piece.

Roman granite font of the Sjørslev-type with double lions and brankursines.
South German baptismal font from about 1575 with the Annunciation of the Virgin Mary as a motif.

Pulpit from the beginning of the 17th century with Tuscan pilasters and portal squares.