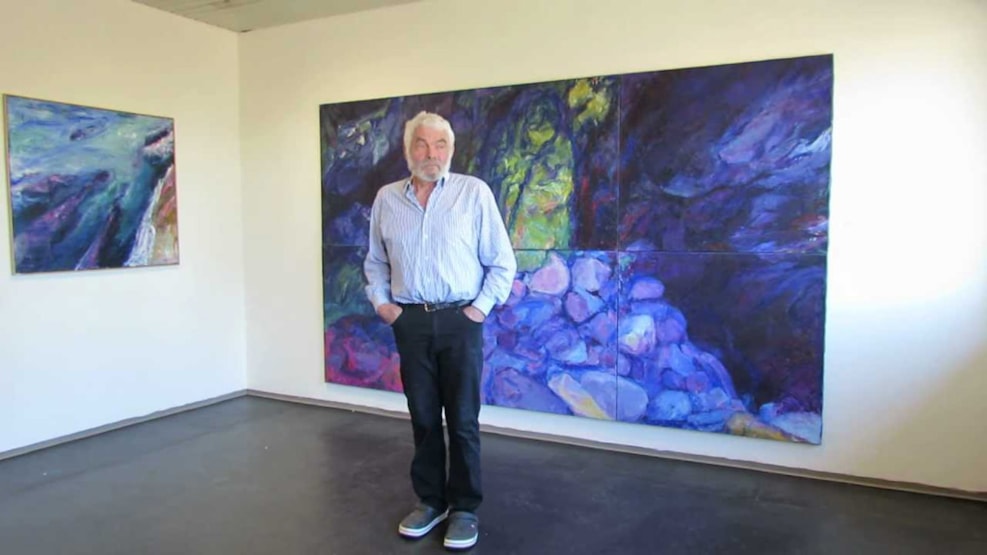 Kunstmaler Anders Glob
Diary from Scotland.
The wind and enormous clouds, ceaselessly moving in across the mountains from the great ocean, sun, moon, stars, rain, snow, storms, together a wonderful light. That is Sutherland, the north of Scotland.
Every winter I come to Scotland, I live out in the Mountains, in my van. No television, no radio, no armchair, no people. Only my paper canvases and paints. I have two" studios" in Sutherland: 'Strath Beg', an empty forbidding Strath, where it is always raining. It is often one of the most hopeless and despairingly places on earth, but when it is at its worse, a small rainbow appears, saying: there is still hope. What one also knows, when one live there for a time, is that in just a few seconds, all turns into paradise on this earth.
My other 'studio' is the 'Secret Beach', a remote beach, difficult to find, and not easy to get to. Massive rocks growing out from the sand, forming into great sculptures. Caves, where the rocks look as if they have just come out of the center of the earth, still warm and newly glazed. Contorted shapes like animals or humans from prehistoric times. The mighty Atlantic sea, which twice in 24 hours is hiding the beach, and is forever sending the great swell ashore, where it like thunder crashes against the cliffs. The Secret Beach, the place, and the Secret Beach inside myself. The canvas, the paper is the meeting place between nature and me. It is there we talk, discuss and experience together. If the canvas, the paper takes over, then there will be a picture. The painting is my diary, intuitive, universal.
Anders Glob.
 
Book of the Land
Earth, air, fire and water.
The spirit of the highland landscape are gathered on long walks - brought back to be fused in the kiln under high heat - transformed in to sculptured books - challenge our perception of the book – viewed as artifact from the future or fossilized tomes from a distant past – the intangible and ephemeral.
Hidden - within the vitrified pages - rocks, sediment, pebbles, glass and bones - light on lochans sound of distant water - smells from moors and heath - fading light at dusk.  Dawn - sun rising behind mountain peaks - an eagle in the sky - deer running - clusters of small pink flowers sheltering between gray rocks. Naked hills with scattered rocks and boulders - erratics watching from the skyline - clouds racing across mountaintops - space for idle thoughts - a feast of solitude.
Lotte Glob