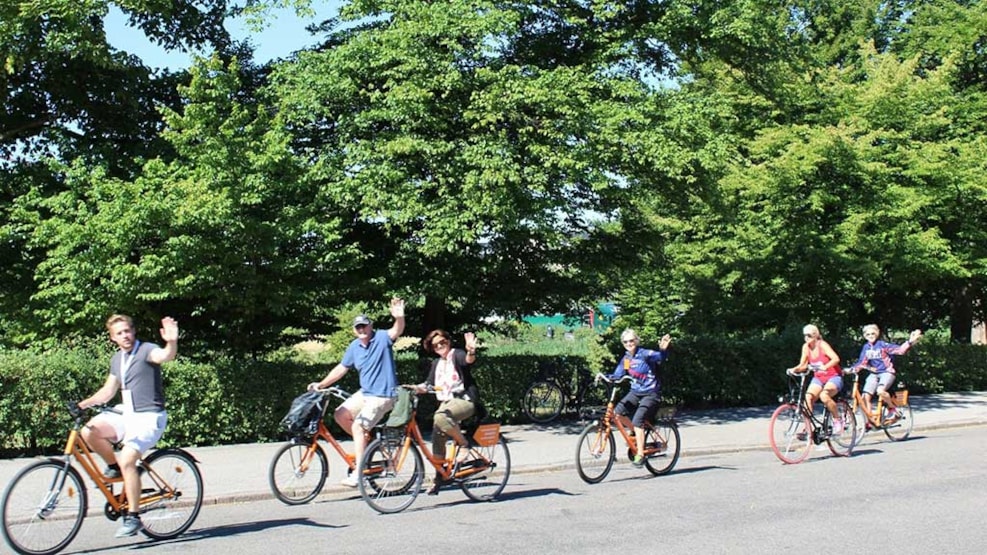 City Bike Adventures Aarhus
City Bike Adventures´ tours are designed to provide guests with an up close and personal experience of some of the greatest landmarks in Aarhus while also giving you a more local view of the city.
Eco-friendly sightseeing
As a Daily Tour guest you will learn about the cities diverse culture and neighborhoods and visit hidden gems off the beaten path, all while doing so in a sustainable, healthy and eco-friendly way. What more could you ask for?
City Bike Adventures´ Motto is: "EXPERIENCE Aarhus – Don't Just Drive Past It!"
Why explore a city by participating in one of those cliché Aarhus bus tours standing still in traffic? City Bike Adventures will get get you out of polluting cars and busses to discover Aarhus up close and personal, all while being health-conscious and sustainable! And the guides are the best in the business. They undergo intensive and ongoing training in order to stay current, and provide Aarhus tour guests with accurate and relevant information. City Bike Adventures' guides take pride in being true ambassadors to Aarhus for the guests that they host on their tours.
The Aarhus Daily Tours depart 365 days a year, with the #1 rated daily tour being offered twice daily with both a morning and afternoon option to choose from. The morning tour is the longest tour and lasts three hours. On this tour, you will get the full experience of Aarhus and get a complete tour of the city. The afternoon tour lasts for one and a half hours and is also a great tour, where City Bike Adventures have packed as much of Aarhus in as possible. They also offer a private tour option if you wish to experience Aarhus only with friends or family and no unknown guests.
The long must see tour
On this 3-hour tour you'll get to experience: Dokk1, Marselisborg Castle, The Memorial Park, Frederiksbjerg, The City Town Hall, The Concert House Musikhuset Aarhus, ARoS Art Museum, The Old Railways, Latin Quarter, The Cathedral and Aarhus Theathre.
€ 39,00 for the 3 hour daily tour. Bikes are included in the price. This tour is every day at 10.00 till 13.00.
The focused tour
On the focused tour you'll get to see the most important sights in, and around, Aarhus. City Bike Adventures will cherry pick the best sights, from the long route.
€ 26,00 for the 1,5 hours daily tour. Bikes are included in the price. This tour is every day at 13.30 till 15.00.
All tours start and end, in central Aarhus next to Dokk1. A map can be seen on City Bike Adventures' homepage.
Don't hesitate to call City Bike Adventures if you have any questions.
Learn more about the tours at their homepage: www.citybikeadventures.com