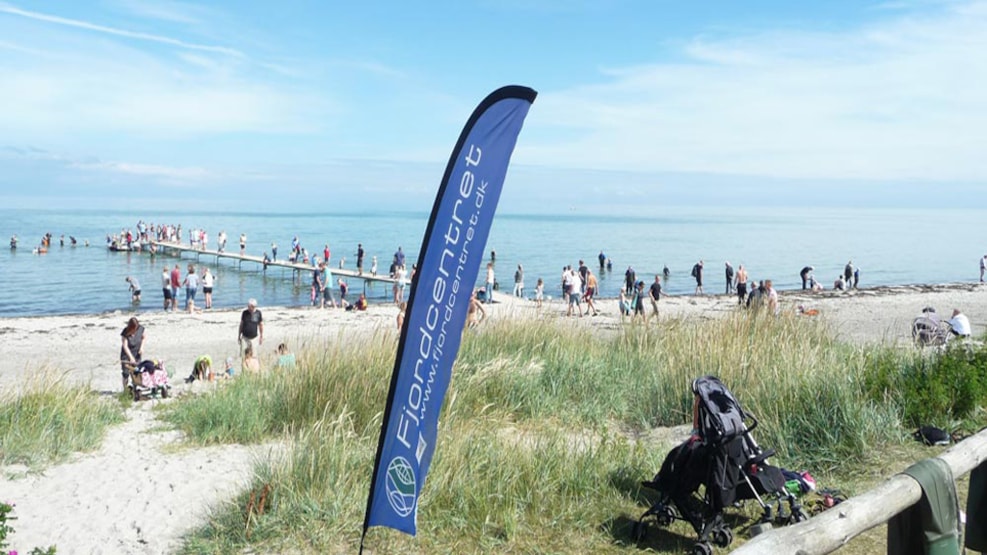 Blå Flag Fjellerup
Blue Flag station Fjellerup is located right on the beach at the jetty and just behind Vaffelbageriet (the waffle bakery).
Blue Flag Fjellerup: 
Summer info: Blue Flag Fjellerup (behind Vaffelbageriet) is open every day 10-16. Visit us and see what is on today's agenda. Taste shrimps and snails and help us find animals in aquariums.
Grenaa nature school is located at the dunes at Grenaa Beach and is also part of the Blue Flag station Grenaa. Both places focus on the sea and the coastal landscape. The stations are also starting points for trips to interesting natural areas such as the cliffs at Gjerrild, Sangstrup and Karlby.
Blue Flag Fjellerup: This is a summer station. Generally, there are open on weekdays during the school holidays. Note that there can be changing opening hours, which means that we sometime choose to open later to keep the station open longer.
During the summer you can always see the current opening hours on this page or on the board of Blue Flag Fjellerup. You can also see notes about event such as snorkeling trips, fishing trips, beach walks and rental of equipment.
They offer:
Touch pools and aquariums with fish caught just outside the door
Local history exhibition about the old Fjellerup
Guided tours with nature experts
Introduction to snorkeling
Introduction to kayaking
Rental of rackets and wetsuits
Events and other activities